Kingston Town Classic 2018 news: Trap For Fools to wear concussion plates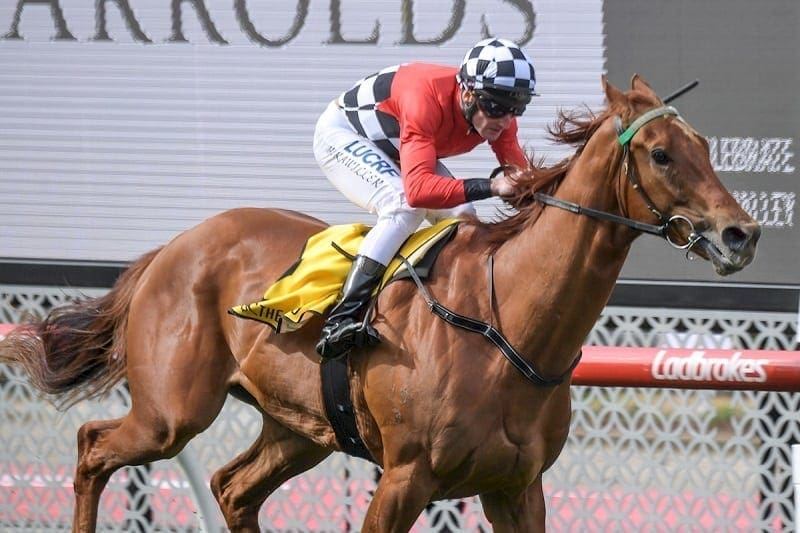 GROUP 1 winning gelding Trap For Fools will wear concussion plates heading into this weekend's Kingston Town Classic at Ascot.
ASCOT 08/12/18 – Kingston Town Classic
(1) TRAP FOR FOOLS Concussion Plates ON (Both Fronts) #waracing @PerthRacing @TABradio

— The Races WA (@theracesWA) December 4, 2018
The Mackinnon Stakes winner will wear the concussion plates, which are typically used for gallopers that suffer from feet or lower leg issues when racing.
The Master Farrier's Asscoiation of NSW states that: "concussion plates are used for horses that suffer from jarring in feet or lower joints when racing."
Concussion plates are commonly used on hard or fast tracks.
Trap For Fools is at $6 via online bookmaker Sportsbet to win the Kingston Town Classic.
The other issue surrounding Trap For Fools heading into the final Group 1 event of the Perth Summer Carnival was who will take the ride on the gelding, but Jarrod McLean confirmed on Tuesday that Damien Oliver will take the steer.
Oliver was due to fly back to Melbourne following a surprise win in the Group 1 Winterbottom Stakes aboard Voodoo Lad on Saturday but McLean has booked the services of the WA native ahead of the $1 million event.
Trainer Jarrod Mclean told RSN that the owner made the decision to book Oliver on Trap For Fools.
"Deano (Dean Yendall) and Benny Allen were in the mix and then Ollie (Damien Oliver) became available," McLean Said.
"It was left up to the owner Jeff Evans … very happy to have (Damien Oliver)."
Trap For Fools will face $2.80 favourite at Sportsbet Arcadia Queen with a 7kg weight disadvantage, which McLean admitted makes the WA Guineas winner "very hard to beat".
The trainer said a number of factors would need to go his way to win the Kingston Town Classic.
"Probably not," McLean said when asked if Trap For Fools can concede 7kg to the favourite and win.
"But his racing pattern eliminates bad luck, where as hopefully she (Arcadia Queen) gets shuffled back in the pack and is unlucky."
McLean said it might come down to a west coast vs east coast war between two of the best jockeys in Australia.
"She's got the magician Willie Pike on, but we've got the genius in Oliver so hopefully we can give a sight."