Kay launches Trentham assault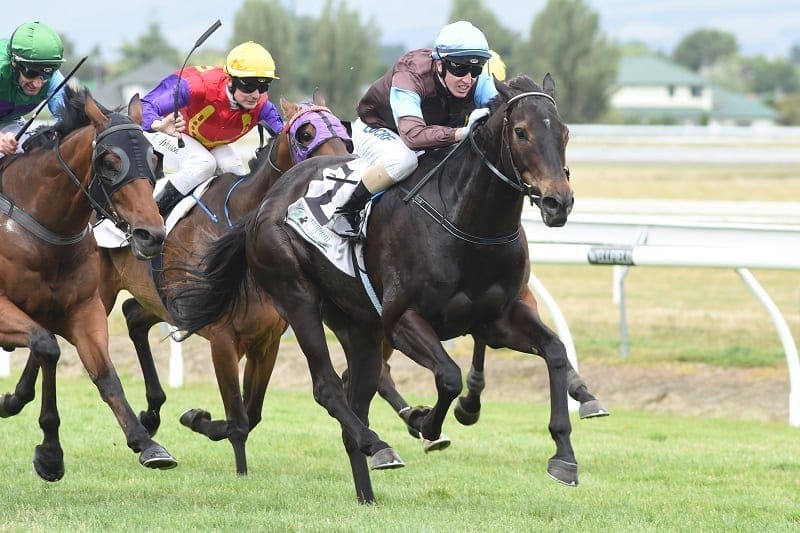 Levin trainer Sylvia Kay will launch an assault on Trentham's feature races in the coming months and will use Otaki on Friday as a stepping stone towards those targets.
The Horowhenua horsewoman will line-up lightly raced six-year-old Dolcetto in the Listed Fasttrack Insurance Levin Stakes (1200m) on Friday, hoping to add another stakes win to his tally.
The Per Incanto gelding has had a light freshen-up since his runner-up performance in the Group 3 Thompson Handicap (1600m) at Trentham last month and Kay's only worry heading into Friday is the 60kg he will carry.
"He's working along really well, but he's carrying a lot of weight so it's not an easy mission, but at least he's not drawn out in the sticks (drawn 6)," Kay said.
"He ran on really well at Trentham (last-start) and the horse that beat him (Dark Princess) had about seven kilos less, so it's always going to be hard when you have got that weight difference.
"He came through that really well. But it's hard racing those horses with a high handicap. Everywhere you go you are stuck with the big weights unless you can get a claim, which doesn't happen very often."
Kay said Dolcetto won't be too concerned with the current track conditions ahead of Friday.
"The track is a slow 8 at the moment and I don't think it will get much better than that," Kay said.
"It doesn't seem to worry him what it is like except he doesn't like it really heavy. He has won on a heavy track, but that is a bit misleading because he actually didn't like it."
While pleased with her runner heading into the race, Kay said she is using it as a lead-up to bigger targets next month.
"I just wanted to give him a run there ahead of the Captain Cook Stakes (Group 1, 1600m), that's the main aim. Otaki's close to home and it's a good place to give him a bit of a blowout."
Meanwhile, Kay will line-up Sylvester in the opening race on the card, the Dunstan Feeds Stayers Feeds Championship Qualifier (2300m) after a luckless run in the Group 3 New Zealand Cup (3200m) at Riccarton earlier this month.
"He never really got into the race down in Christchurch, he got so far back," she said. "He ran on at the end of it but it was too late. He pulled up like he hadn't done very much.
"It was his first time away from home and he never left any feed and travelled well, it was a good experience."
Kay will be using Friday as a lead-up race for the Group 3 NZ Campus For Innovation & Sport Wellington Cup (3200m) in January, a race she won in 2011 with Spiro, and she is looking forward to reuniting Sylvester with premiership-winning jockey Samantha Collet.
"He is pretty consistent," she said. "He's a big, strong horse and seems to like his racing. It will be good to have Sam back on him. She knows him pretty well, so let's hope she can turn him around.
"We always like to have one in the Wellington Cup if we can. Last year we ran him in it and unfortunately he had no luck."
Kay is currently training six horses on her Levin property and said she is still enjoying training her team, which tend to be older staying-types.
"I really enjoy it, I like getting up in the morning, it's quite interesting and I'm still meeting a lot of nice people," Kay said.
"We've got half a dozen at the moment. A couple of young ones that do a bit of work now and then, two or three days a week, we're ticking them along and educating them.
"We've got two maiden horses and a half to Dolcetto by Road to Rock, he's five now. He's taken all that time to get into gear. He's a big, slow-maturing horse, but he goes quite nicely.
"He's had a trial and ran on really well. I'm looking forward to getting him out." Kay said her breed take a fair bit of time to mature, but because she likes training stayers it doesn't faze her that they take a little bit of time to develop.
"We've always liked the staying horses and our breed just takes a bit of time. Dolcetto went quite sore over the back just after Christmas and no one could find what was wrong with him, then his wither came up. He was still growing and he was five years old when that happened, but they do last longer as a rule."
While she is still enjoying both training and breeding, Kay said she is pleased that her son Michael has taken a strong interest in thoroughbreds and is likely to take over the reins when she retires.
"We love breeding them," she said. "We sent six out this year, so lucky our Son Michael is pretty keen.
He helps and drives the truck and is good at handling the young ones. We have given him shares in a few of them. He really enjoys it, so that's a help.
"When I get sick of it he will take them over I would imagine. We have had a lot of fun out of it and they have paid their way."