Japan's influence on Hong Kong International Race day undeniable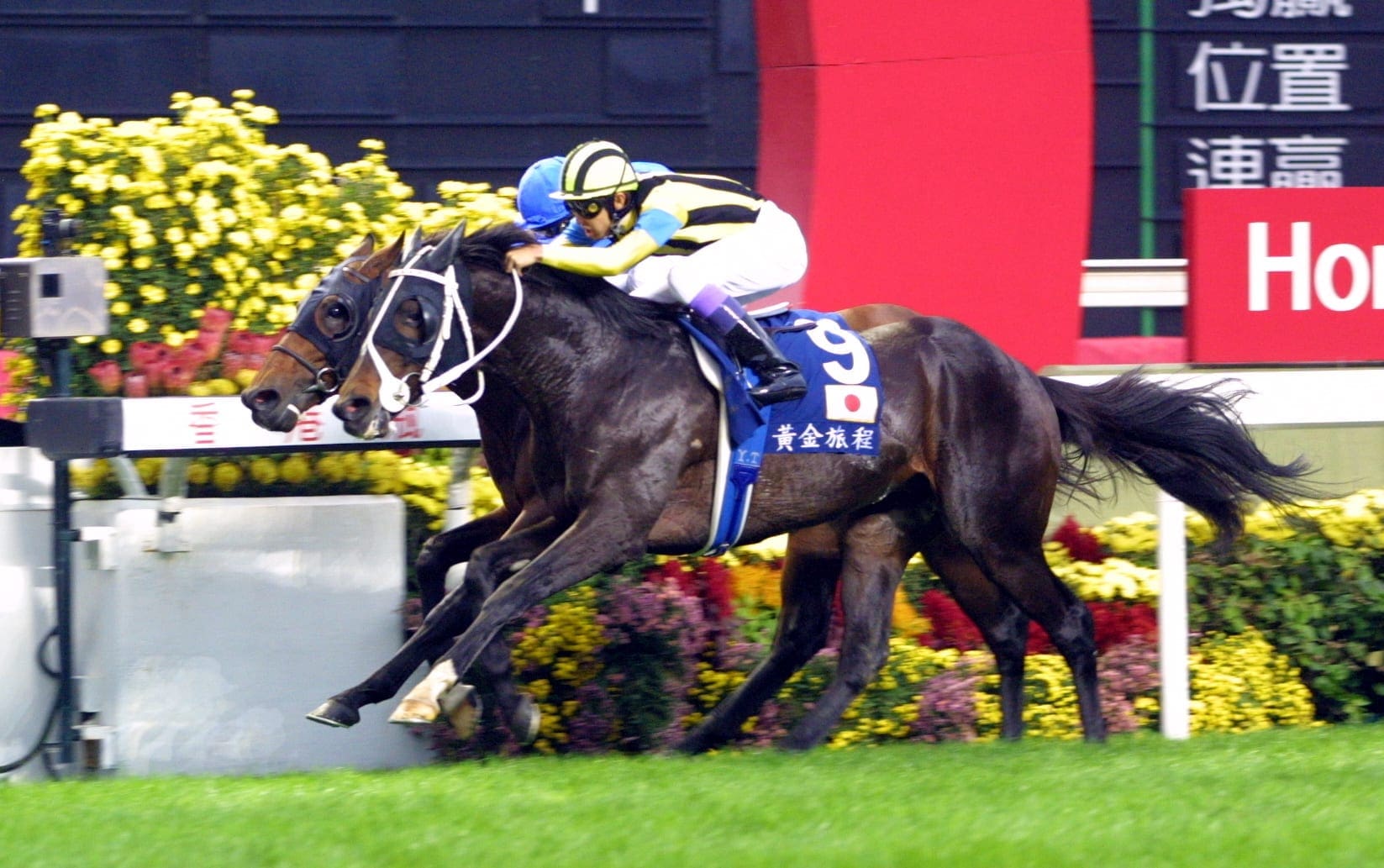 The 1990s was a defining period for the Japanese thoroughbred. It was the decade in which imported stallions like Sunday Silence, Tony Bin, and Northern Taste set Japan's horses on the path to international prominence on the race track and in the breeding shed. As the progeny of these three stallions, especially the offspring of Sunday Silence, have started equally successful stud careers, it has been their international successes as much as their domestic wins that have signalled their value in the breeding shed.
Of all the international races that the Japanese have participated in over the years, none have as high a participation rate as the Hong Kong International Races. Since they were first represented at Sha Tin in 1993, the Japanese have flown over every year for at least one of the races. The best of those horses are impacting the Japanese thoroughbred in a whole new way.
Hong Kong's effect can be historically felt already through 2001 Hong Kong Vase winner Stay Gold, from an early crop of the legendary stallion Sunday Silence. Domestically he had always found himself the runner-up to other big names like Japan's leading earner T M Opera O, Jungle Pocket, Grass Wonder or fellow Sunday Silence-sired Special Week. His one G1 victory came after a memorable battle with Godolphin's Ekraar in the Vase, after which he was retired to stud.
He died in 2015, but his impact on the Japanese thoroughbred is undeniable, having sired 783 winners to date including seven G1 winners – his most recent top-flight winner being the 2017 G1 Victoria Mile winner Admire Lead. His best representative is the mighty Orfevre, a six-time G1 winner, two-time Prix de l'Arc de Triomphe runner-up, Triple Crown winner, and 2011 Horse of the Year, who now leads the 2017 Freshman Sire rankings based on earnings. Orfevre already has two graded stakes winners to his name and could likely have his first G1 winner this weekend in Sunday's G1 Hanshin Juvenile Fillies where he will be represented by Rock This Town and Lucky Lilac. In many ways, Orfevre did more to promote Japanese racing globally than any other horse since Deep Impact, and he might not exist if Stay Gold had not captured the Hong Kong Vase.
The younger generations in Japan have felt the positive impact of Japanese-trained Hong Kong winners at stud as well. Rulership had his only G1 victory in Hong Kong's QEII Cup in 2012 and went on to be Leading Freshman Sire in 2016. While he never raced in the HKIR, his son and first G1 winner Kiseki will be carrying his father's banner this weekend in the Hong Kong Vase. Two other young stallions who did run and win multiple times at the Hong Kong International Races are also making or are being set up to make their impact on the Japanese turf, Lord Kanaloa and Maurice.
Japan has never produced a sprinter more dominant than Lord Kanaloa, who captured the G1 Hong Kong Sprint in both 2012 and 2013. Those spectacular performances rang throughout the halls of Shadai Stallion Station in 2014 as he covered 250 mares in his first season and 276 in his second. He has covered the likes of Champion Sprinter Curren Chan, Caulfield Cup winner Southern Speed, five-time G1 winner Stardom Bound, four-time G1 winner Mosheen, two-time G1 winner Shamrocker, G1 Victoria Mile winner Asian Winds, the blue hen To The Victory, G1 Prix Saint-Alary winner Reve d'Oscar, Gentildonna's full sister and multiple graded stakes winner Dona Blue, G1 New Zealand Oaks winner More Than Sacred, German Oaks winner Mystic Lips, G1 New Zealand 1,000 Guineas winner King's Rose and G1 winner Ultra Bend, just to name a few. Shadai has even made Lord Kanaloa available for a select few southern hemisphere covers for those willing to send their mares to Japan.
He is on course to become 2017 Leading Freshman Sire by winners with 26 individual victors and 31 combined wins in the JRA, 11 individual winners and 14 wins more than any of his rival first crop stallions as of 8 December. His yearlings were among the top lots in nearly every yearling sale in Japan this year and he was the most-praised young sire in the months leading up to the 2017 two-year-old racing season. This weekend, Lord Kanaloa has his first G1 performer Gulielma running in the G1 Hanshin Juvenile Fillies, while next weekend he has G3-placed Stelvio and highly-regarded Momiji Stakes winner Danon Smash entered in the G1 Asahi Hai Futurity Stakes. It will not be long, surely, before his little lords and ladies make their way to future renewals of the HKIR. The appropriately named King Kanaloa is the first of Lord Kanaloa's progeny in training at Sha Tin, with John Moore.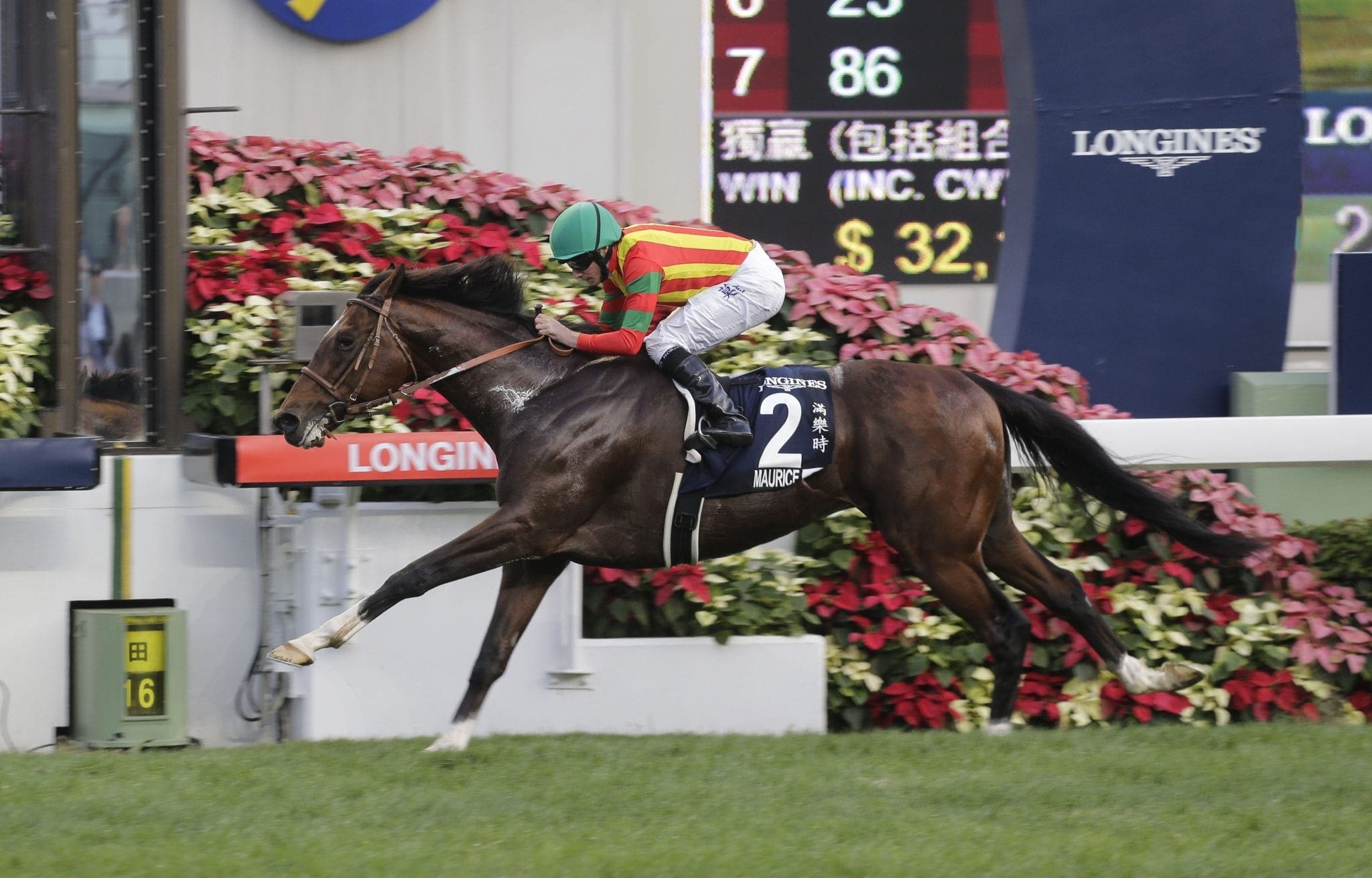 Maurice might be the best horse Japan has ever sent to Hong Kong with three stunning wins: the 2015 Hong Kong Mile, 2016 Champions Mile, and 2016 Hong Kong Cup. Those three landmark performances, plus three G1 titles in Japan, earned him 2015 Horse of the Year and a special award for excellence in 2016, after which he retired with much anticipation to Shadai Stallion Station.
This year he covered a book of 265 mares in Japan, including three-time Champion and two-time Horse of the Year Gentildonna; four-time Champion and 2010 Horse of the Year Buena Vista; G1 Japanese 1,000 Guineas winner Harp Star; two time G1-winner Verxina, who is also a half-sister to 2017 G1 Japan Cup winner Cheval Grand and full-sister to 2017 Dubai Turf winner Vivlos; 2016 Japanese Oaks winner Sinhalite; 2011 G1 Japanese 1,000 Guineas winner Marcellina; 2008 G1 Queen Elizabeth II Cup winner Little Amapola; and 2005 G1 Japanese Oaks and G1 American Oaks winner Cesario, who is also the dam of 2014 G1 Japan Cup winner Epiphaneia and 2015 champion two-year-old Leontes. These are just a select few from a first-season book filled to the brim with black type mares that only the likes of Deep Impact, Galileo, Frankel, and Tapit might see in a single season.
Shortly after his retirement, it was announced that the "Beast from the East" would also be shuttling to Arrowfield Stud in Australia. There too he was met with enthusiasm, covering 120 mares including G1 VRC Oaks winners Brazilian Pulse and Hollow Bullet; G1 Queensland Oaks winner Quintessential; New Zealand 1,000 Guineas winner Platinum Witness; Stareel, the dam of six-time G1 winner and Maurice's Arrowfield barnmate (It's A) Dundeel; Ponte Piccolo, dam of Hong Kong's 2014/15 Horse of the Year and four-time G1 winner Able Friend; Chatelaine, dam of G1 winner Headway; and many more black-type mares like Wyong Magic Millions placegetter Aghna. No doubt some of his foals will find their way into the Hong Kong Jockey Club database in the years to come.
The 2015 Hong Kong Cup was A Shin Hikari's first G1 success before winning the G1 Prix d'Ispahan in France the following year and initially secured his future as a prospective stallion. Satono Crown's upset in last year's Hong Kong Vase was his first G1 win before going on to win the G1 Takarazuka Kinen this summer, with both cementing his place in the breeding shed in the years to come. This weekend will be Satono Aladdin's final start before retiring to stud, and he too will be looking for the HKIR stamp of approval to help fill his book next spring.
From Stay Gold's expanding legacy, Lord Kanaloa's promising start and Maurice's dual-hemisphere first-season popularity, to the yet-to-be retired champions, the impact that the Hong Kong International Races has on the Japan breeding industry is growing deeper every year.