Japanese raiders perform admirably at Hong Kong International Races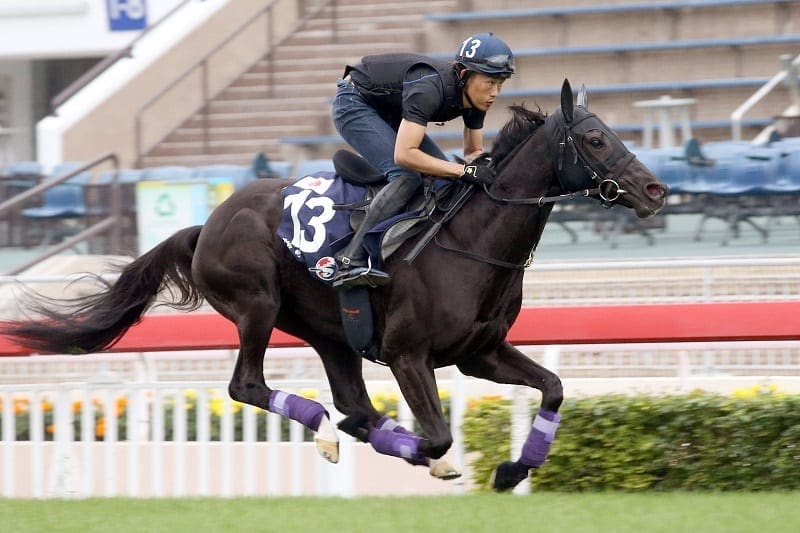 It was a chilly day in Hong Kong on Sunday and despite a number of heated battles for the top, Japan's team of nine was left out in the cold, missing the winner's circle in all four of the day's big races.
Still, as Hong Kong-based horses swept all four of the day's Group 1 races – the Hong Kong Vase, Sprint, Mile and Cup – it was three of Japan's four females to Hong Kong that managed to bring home second-place finishes and save face on a day the Japanese raiders had been expected to capture at least one of the races.
First up in the Vase, the fourth race on Sha Tin's Dec. 9 card of 10, Lys Gracieux, with Joao Moreira up, came closest to victory as she battled in the stretch with Tony Cruz's Exultant, who managed, under Zac Purton, to bag the 2,400-meter event.
Victory had looked virtually certain for the 4-year-old Lys Gracieux but a bit of sidestepping may have cost this year's Queen Elizabeth II Cup champion the race, which she lost by a neck.
"She was calm in the paddock and I wasn't worried about her," trainer Yoshito Yahagi said. "I figured the pace would be slow but that her kick would be enough to bring her home. That part went largely as expected but in the stretch she leaned in just a bit and I think that little bit resulted in the loss."
Winning jockey Purton had believed victory and the HK$20 million winner's share was set to go to the Japanese runner as well. "I thought they had the better of me," Purton said of Moreira and his mount in the race final moments.
"My bloke just seemed to be loafing along a little bit and as Joao came to me he actually rolled in and bumped my horse. That seemed to fire him back up and he found his second wind then."
Moreira, not ready to take all the blame, said, "There were a few little issues that people might not have seen because I got held up. Horses bumped me at 600 meters and she was hanging in the straight. Those little things can affect a horse's performance and probably cost her the race. But overall I am extremely pleased with her performance. She is very talented and has proved that once again."
The Irish-bred Exultant became only the third Hong Kong horse to win the Vase and beat out top picks Waldgeist and Pakistan Star in topping the field of 14. Trainer Tony Cruz said his 4-year-old gelding, who was able to capture his first Group 1 race on his third try "knows the game better now. He's stronger, better and more experienced."
BEST ONLINE BOOKMAKERS FOR HORSE RACING
Crocosmia, Japan's other runner in the Vase and ridden by Yasunari Iwata, finished in 10th place, nearly 10 lengths behind the winner.
Next up was the Hong Kong Sprint, a home team stronghold that Japanese raiders had managed to wrestle away two years in a row back in 2012 and 2013. However, this year again the winner's share was to stay in Hong Kong, as Frankie Lor's Mr. Stunning, the race second pick and partnered with Karis Teetan, won back-to-back versions of the race in beating out the John Size-trainer D B Pin by 3/4 length.
Japan's only runner in the race Fine Needle, winner of both this year's Takamatsunomiya Kinen and the Sprinters Stakes, finished ninth in a final field reduced to 11 after Pingwu Spark was scratched just minutes before race start.
The delay caused by a check on Pingwu Spark kept Fine Needle and Yuga Kawada waiting in the gate and most likely had an effect on his performance, according to trainer Yoshitada Takahashi. Fine Needle had been, according to Takahashi and Kawada, in "perfect condition."
"I thought he was in ideal shape and, though he did seem a bit quiet in the paddock, he has a good switch. I saw his eyes change when the jockey got on," Takahashi said. "But the time he was made to wait may have been the biggest reason for losing. He had been acting up in the gate and Kawada put his foot on the ledge to avoid falling off. I think that's when the horse may have switched off."
Takahashi said Fine Needle had failed to go all out in the race, and though he did respond to the whip, just didn't have his heart in it. "He was barely out of breath after the race," he said. "I'd like to bring him back again next year."
Race favorite Hot King Prawn disappointed in ninth place finishing 4-1/2 lengths behind the winner.
The Hong Kong Mile, which added HK$5 million to the first-place prize of the Vase and Sprint, saw three Japanese runners in a field of 14 – Persian Knight, Mozu Ascot, and Vivlos. Persian Knight and Mozu Ascot were popular bets, rated second and third most likely to win behind the wildly popular local star Beauty Generation, who had odds pushed rock bottom at 1.5-1 to win.
It was the Yasuo Tomomichi-trained Vivlos, the least favorite of the Japanese runners and a longshot at 58-1, who finished the closest behind Beauty Generation, out in front the winner by three lengths.
Running under William Buick, 5-year-old mare Vivlos moved up gradually from nine off the front to finish in second place, with Persian Knight and Mirco Demuro in fifth place four lengths off the winner.
Christophe Lemaire aboard Mozu Ascot, winner of this year's Yasuda Kinen, was unable to come closer than seventh place after a late run and finished 5-1/4 lengths behind the winner.
Mozu Ascot's performance was the most disappointing, but trainer Yahagi attributed it largely to the mental blow he received by being knocked about in his last start, the Mile Championship, which resulted in a 13th-place finish.
"His responses were not good out of the gate and though he didn't get a clear run in the stretch, it was more his lack of response that was the problem," Yahagi said.
"His last race was a very difficult one and that certainly had an effect. He hasn't been on his game since coming to Hong Kong and though he looked great in the paddock, I think the effect of getting knocked badly in his last race was the problem. I plan to give him time off and get him totally recovered. The winner though was very strong."
Persian Knight trainer Yasutoshi Ikee also attributed the loss to the jostling his 4-year-old had gotten in the Mile Championship, in which he'd finished second. "His position was normal," Ikee said.
"But there was no strong pace, which I didn't think bode well. Still, I thought he'd have something to show off in the final stage but he didn't switch into top gear. He had been rather quiet in the paddock and I do think the bump he got last out has had an effect."
The John Moore-trained Beauty Generation, on the other hand, had the stands screaming. Out in front without a challenge from the 800-meter mark, Beauty Generation, Hong Kong's reigning Horse of the Year, continued to put light between him and the rest of the field of 14.
"It was what we'd all hoped we'd see today," winning jockey Purton said afterward. "He showed how brutally good he can be. He had felt good in his work and the trainer called me to canter him on Saturday as well. When I got off, I thought, 'You're not going to beat him' and I slept pretty well last night."
Buick on Vivlos said, "Mr. Tomomichi had her in great shape. She ran a really good race and was comfortable through the run, but was beaten by one of the best milers in the world."
Last up was the day's highlight, the Hong Kong Cup, with a first-place bounty of HK$28 million. Here again, Japan seemed to have their best shot at a win, but victory was not to belong to any of them – Deirdre, Staphanos, or race favorite Sungrazer. Instead it went to Glorious Forever, another Frankie Lor-trained horse that went wire to wire over the 2,000 meters.
It was Deirdre, a knockout gorgeous 4-year-old filly, that came closest to catching the winner. Under Christophe Lemaire, Deirdre battled to within a length of Glorious Forever, while Sungrazer under Moreira finished in fourth place 2 1/2 lengths behind the winner. Staphanos ran an honorable race, last, but only 4 3/4 lengths behind the winner.
"Everything was in my favor," winning rider Silvestre de Sousa said. "The draw was perfect for riding a horse who could be one or two in the run. Everything went to plan."
Lemaire paid his respect to both the winner and his mount. "She ran very well," he said of Deirdre. "It was a good pace and she was very relaxed all the way around. She picked up very well and has a long acceleration, giving all at the finish. Well done to the winner as he made the running and never gave up. The best horse won today."
HONG KONG CUP
DEIRDRE: 2nd
SUNGRAZER: 4th
STAPHANOS: 9th
HONG KONG MILE
VIVLOS: 2nd
PERSIAN KNIGHT: 5th
MOZU ASCOT: 7th
HONG KONG SPRINT
FINE NEEDLE: 8th
HONG KONG VASE
LYS GRACIEUX: 2nd
CROCOSMIA: 10th