Japan Racing: Form & Tips for the Grade 2 Copa Republica Argentina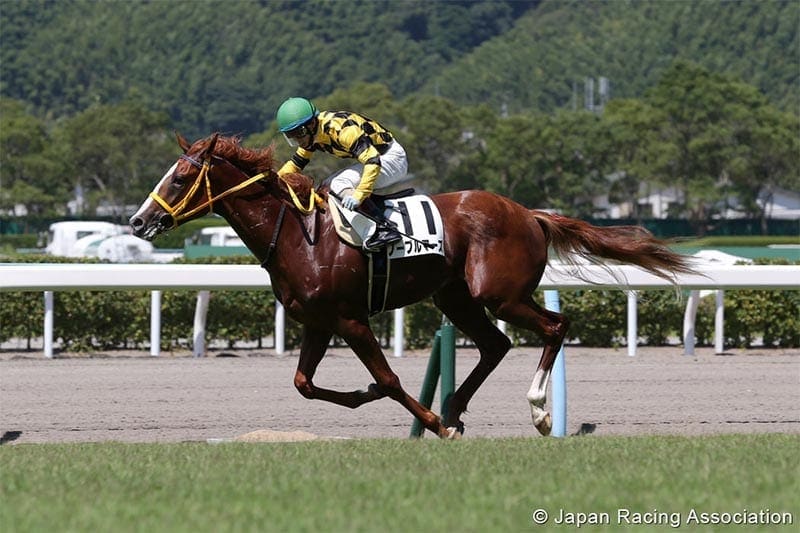 There's a slight gear change this week, with a brief pause in the Grade 1 action in Japan, but Tokyo Racecourse will be the venue on Sunday, Nov. 4, for the Grade 2 Copa Republica Argentina, taking place for the 56th time. This will be a breather before the four-week, Japan Autumn International Series, which has the Grade 1 Japan Cup as its most prestigious feature.
The Grade 2 Copa Republica Argentina was formerly known as the Argentine Jockey Club Cup, but received its current name in 1975, and while it was previously run at Tokyo in May, since 1984 it has been run in November and as a handicap race. It's run over 2,500 meters on the turf track, the same distance as the Grade 2 Meguro Kinen held on Derby day. Several of the runners among the 16 nominations also ran in the Meguro Kinen this year, as well as the Grade 2 Nikkei Sho, run over 2,500 meters at Nakayama in March, and also the Grade 1 Takarazuka Kinen over 2,200 meters at Hanshin in June.
BET: BOOKIES WITH JAPANESE RACING
Despite the its Grade 2 status, the race has thrown up some big names in recent years, with winners of the race enjoying Grade 1 glory later in their careers. Screen Hero (2008), Gold Actor (2015), Cheval Grand (2016), and Suave Richard (2017) are some of them. In the last 10 years, first, second or third favorites have won eight times between them, with the first favorite winning three times. 4-year-olds have also fared particularly well, winning seven times in the last decade. Lightweights in the handicap don't have a very good record, so more attention should probably be given to the horses carrying higher weight. Since 1984, Lelouch holds the record time for the race, winning in a time of 2 minutes, 29.9 seconds in 2012.
This year's winner's check amounts to JPY57 million. Weights for the race, and the barrier draw, will be announced later in the week. Post time for the race on Sunday will be 15:30 local time and it will be Race 11 on the Tokyo card. Here's a look at some of the nominated runners:
Runners & Comments for the Copa Republica Argentina
Noble Mars: The 5-year-old by Jungle Pocket has 29 career starts to his name, and has been in the first three home 19 times. His consistency was seen earlier this year when he finished second in the Grade 2 Meguro Kinen over the course and distance at Tokyo, and then most recently when third to Mikki Rocket in the Grade 1 Takarazuka Kinen over 2,200 meters at Hanshin in June.
Albert: A horse that doesn't seem to know his age, the 7-year-old continues to run extremely well. He was fourth in last year's Copa Republica Argentina, and second in the race in 2016, showing his liking for the race. The Northern Farm bred horse by Admire Don has also run in six Grade 1 races, and his overall prize money tally in JRA races is a staggering 376 million yen. Jockey Hironobu Tanabe looks set to ride Albert this time.
Ganko: The 5-year-old will be having his first run in the Copa Republica Argentina, but with a near 50% ratio of finishing in the top three places, the son of Nakayama Festa deserves respect here. He won the Grade 2 Nikkei Sho this March over 2,500 meters at Nakayama. He's trained at the Ritto Training Center by Shigeki Matsumoto.
Perform a Promise: Racing in the colors of the Sunday Racing Co. Ltd., the 6-year-old by Stay Gold is six wins from 14 career starts and is under the current leading trainer, Hideaki Fujiwara. The horse has a Grade 2 win this year, as well as a third in the Grade 2 Meguro Kinen. He took on the Grade 1 Takarazuka Kinen last time and finished ninth. Irish jockey Colm O'Donoghue has shown his skills already on his return to Japan, and he's booked to ride Perform a Promise.
Muito Obrigado: The 4-year-old colt by Rulership is coming off three straight wins, all of them at Tokyo over 2,400 meters. He is now five wins from 15 starts, and runs in the colors of Ichikawa Yoshimi Holdings Co. Ltd., with the owner also breeding the horse. Trained by Koichi Tsunoda, the horse is another that will be transporting over from Ritto Training Center.
Jinambo: Trained by Noriyuki Hori, the impeccably bred 3-year-old colt is by Deep Impact out of the Triple Crown mare Apapane, and has already shown what he can do by winning both his races so far. Jinambo runs in the famous colors of Kaneko Makoto Holdings Co. Ltd., and although the horse has never raced beyond 2,000 meters, on breeding it doesn't look to be an issue.
Win Tenderness: This year's Meguro Kinen winner is nominated for the Copa Republica Argentina and has performed well in his first year of taking on Grade 2 races. He finished sixth to Satono Diamond most recently in the Grade 2 Kyoto Daishoten over 2,400 meters in October. The 5-year-old by Company often starts at a decent price and has three wins to his name this year.