Hong Kong Jockey Club Champion Awards announced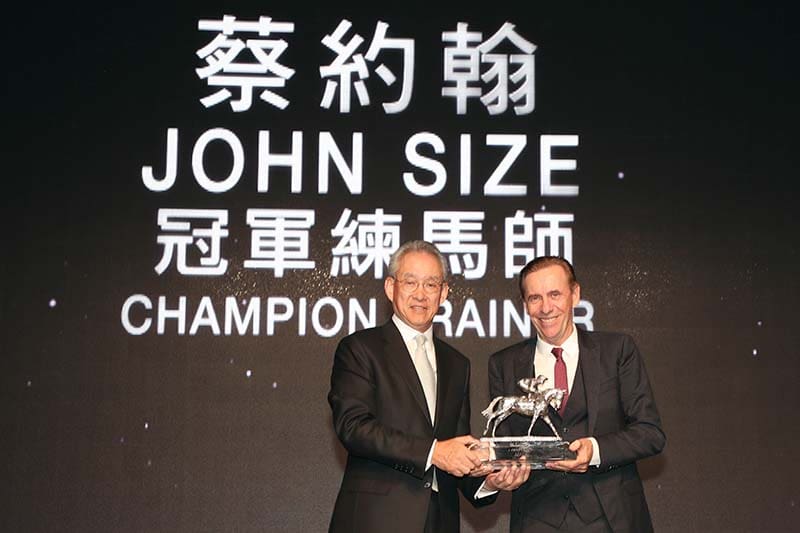 THE Hong Kong Jockey Club is fast becoming one of the most popular governing bodies in the thoroughbred world due to its dedication to industry, propensity to put on a good show for the enthusiasts and the accessibility of all things racing.
Racing in Hong Kong grows exponentially from year-to-year and the world's attention is routinely drawn to the Sha Tin racecourse for the quality the events, which in turn generates interest in not just the group racing, but the competitors themselves.
Some of the most popular horses in the world currently race and reside in Hong Kong, and the yearly awards that the HKJC give out have fast become one of the must-follow ceremonies in the industry.
These lists will run you through the short history of the HKJC's awards, which reads like a veritable who's who of thoroughbred runners from across the world.
Horse of the Year
2015/2016 Werther
2014/2015 Able Friend
2013/2014 Designs On Rome
2012/2013 Military Attack
2011/2012 Ambitious Dragon
2010/2011 Ambitious Dragon
2009/2010 Scared Kingdom
2008/2009 Viva Pataca
2007/2008 Good Ba Ba
2006/2007 Vengeance Of Rain
2005/2006 Bullish Luck
2004/2005 Silent Witness
2003/2004 Silent Witness
2002/2003 Grand Delight
2001/2002 Electronic Unicorn
2000/2001 Fairy King Prawn
1999/2000 Fairy King Prawn
1998/1999 Indigenous
Most Popular Horse
2015/2016 Werther
2014/2015 Able Friend
2013/2014 Designs On Rome
2012/2013 Military Attack
2011/2012 Little Bridge
2010/2011 Ambitious Dragon
2009/2010 Scared Kingdom
2008/2009 Scared Kingdom
2007/2008 Good Ba Ba
2006/2007 Vengeance Of Rain
2005/2006 Bullish Luck
2004/2005 Silent Witness
2003/2004 Silent Witness
2002/2003 Electronic Unicorn
2001/2002 Fairy King Prawn
2000/2001 Fairy King Prawn
1999/2000 Fairy King Prawn
1998/1999 Indigenous
Champion Sprinter
2015/2016 Peniaphobia
2014/2015 Aerovelocity
2013/2014 Lucky Nine
2012/2013 Lucky Nine
2011/2012 Little Bridge
2010/2011 Sacred Kingdom
2009/2010 Sacred Kingdom
2008/2009 Sacred Kingdom
2007/2008 Sacred Kingdom
2006/2007 Absolute Champion
2005/2006 Silent Witness
2004/2005 Silent Witness
2003/2004 Silent Witness
2002/2003 Grand Delight
2001/2002 Charming City
2000/2001 Fairy King Prawn
1999/2000 Fairy King Prawn
1998/1999 Fairy King Prawn
Champion Miler
2015/2016 Sun Jewellery
2014/2015 Able Friend
2013/2014 Gold-Fun
2012/2013 Ambitious Dragon
2011/2012 Ambitious Dragon
2010/2011 Beauty Flash
2009/2010 Able One
2008/2009 Good Ba Ba
2007/2008 Good Ba Ba
2006/2007 Armada
2005/2006 Bullish Luck
2004/2005 Bullish Luck
2003/2004 Lucky Owners
2002/2003 Electronic Unicorn
2001/2002 Electronic Unicorn
2000/2001 Fairy King Prawn
1999/2000 Fairy King Prawn
1998/1999 Oriental Express
Champion Middle Distance
2015/2016 Werther
2014/2015 Designs On Rome
2013/2014 Designs On Rome
2012/2013 Military Attack
2011/2012 Ambitious Dragon
2010/2011 Ambitious Dragon
2009/2010 Collection
2008/2009 Viva Pataca
2007/2008 Viva Pataca
2006/2007 Viva Pataca
2005/2006 Vengeance Of Rain
2004/2005 Vengeance Of Rain
2003/2004 River Dancer
2002/2003 Precision
2001/2002 Olympic Express
2000/2001 Industrial Pioneer
1999/2000 Industrial
1998/1999 Indigenous
Champion Stayer
2015/2016 Blazing Speed
2014/2015 Helene Super Star
2013/2014 Dominant
2012/2013 California Memory
2011/2012 Liberator
2010/2011 Mighty High
2009/2010 Mr Medici
2008/2009 Viva Pataca
2007/2008 Viva Pataca
2006/2007 Vengeance Of Rain
2005/2006 Viva Pataca
2004/2005 Vengeance Of Rain
2003/2004 Super Kid
2002/2003 Precision
2001/2002 Cheers Hong Kong
2000/2001 Oriental Express
1999/2000 Housemaster
1998/1999 Indigenous
Champion Griffin
2015/2016 Mr Stunning
2014/2015 Thewizardofoz
2013/2014 Bullish Smart
2012/2013 All You Wish
2011/2012 Amber Sky
2010/2011 Bear Hero
2009/2010 Entrapment
2008/2009 Royal Flush
2007/2008 Ichiban
2006/2007 Joy And Fun
2005/2006 Floral Pegasus
2004/2005 Good Ba Ba
2003/2004 Great Win
2002/2003 Silent Witness
2001/2002 Able Choice
2000/2001 Lifetime Express
1999/2000 Fibber
1998/1999 Kingston Treasure
Most Improved Horse
2015/2016 Fabulous One
2014/2015 Contentment
2013/2014 Divine Ten
2012/2013 All You Wish
2011/2012 Glorious Day
2010/2011 Ambitious Dragon
2009/2010 Entrapment
2008/2009 More Bountiful
2007/2008 Sight Winner
2006/2007 Medic Power
2005/2006 Armada
2004/2005 Green Treasure
2003/2004 Scintillation
2002/2003 Silent Witness
2001/2002 Darwin
2000/2001 Winning Counter
1999/2000 N/A
1998/1999 N/A
Lifetime Achievement Award
2015/2016 N/A
2014/2015 Ambitious Dragon/California Memory
2013/2014 N/A
2012/2013 N/A
2011/2012 Sacred Kingdom/Able One
2010/2011 Viva Pataca/Good Ba BA
2009/2010 N/A
2008/2009 N/A
2007/2008 Vengeance Of Rain
2006/2007 Silent Witness
2005/2006 N/A
2004/2005 Cape Of Good Hope
2003/2004 Lucky Owners
2002/2003 Fairy King Prawn/Indigenous
2001/2002 N/A
2000/2001 N/A
1999/2000 N/A
1998/1999 N/A