Helene Paragon scores emotional win in Queen's Silver Jubilee Cup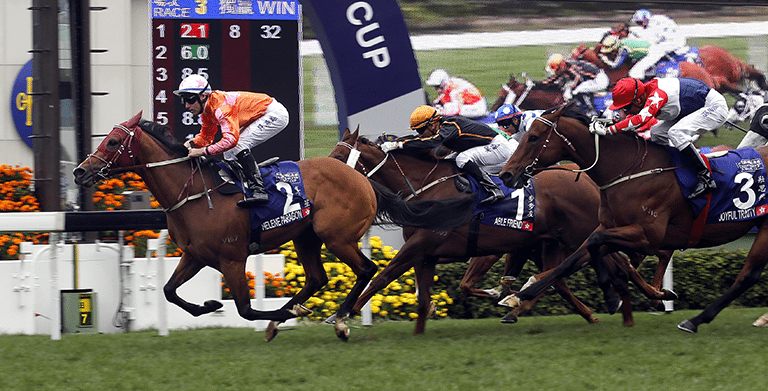 Emotions were raw at Sha Tin on Sunday after Helene Paragon battled past stablemate and crowd favourite Able Friend to win the Group 1 Queen's Silver Jubilee Cup (1400m).
The passing on Thursday of part-owner Wilson Woo meant that there was poignancy to the image of Tommy Berry punching the sky, enwrapped in the Woo family's orange and pink silks.
"It's a very emotional win," trainer John Moore said.
"And thank you to the family for allowing the horse to run today. He's the bulldog of the stable, he doesn't know how to get beaten and he did it today."
Moore was noticeably subdued in victory, the joy of Helene Paragon's win tempered by the Woo family's loss. And then there was the disappointment of Able Friend's eclipse. The trainer had been bullish heading into today's contest, confident that Hong Kong's all-time highest-rated horse was ready to show that he was still the best in town.
Joao Moreira, a G1 winner in Australia yesterday, appeared deflated on Sunday after the $2.10 favourite was beaten. The champion jockey walked to the weigh-in with head bowed but later revealed that he was proud of Able Friend's effort.
"He gave the best that he could," Moreira said.
"Tommy rode his horse very well and sometimes you have to accept that you're not winning. I'm proud of the horse anyway. One thing I can highlight is how hard he was trying. He was letting down – I hit him, because I was in a fight, and I could feel that he was giving everything that he had, so I can't be upset with the outcome."
Asked if $5 shot Helene Paragon's triumph represented a passing of the baton, Moore replied,
"No. I think I can get Able Friend a little bit fitter than what he was today, so I wouldn't discount him because of soundness or age; he'll be back and I think he'll be even better at the mile."
Moore, nonetheless, knows that he has another top-class galloper on his hands and was duly pleased to see his stable representatives fill the first three places in the eight-runner contest. Three-quarters of a length separated Helene Paragon from Able Friend and the margin was a short-head back to the ever-consistent Joyful Trinity.
"It is satisfying, it was good that all of them dug deep in the end, and 'The Bulldog', as Tommy describes him, never gives up. It was a nice fight to the line," Moore said.
Helene Paragon's career continues to burgeon. The Polan entire scored a deserved first G1 win in last month's Stewards' Cup (1600m) and today the bay showed class and mettle to hold Able Friend through a long run to the wire. Berry's execution was impeccable.

After relaxing his mount at the tail, the Australian ace took the race to his rivals on the home turn, ranging up outside Able Friend with 600m to race, five-wide and full of running turning in. The big two engaged upon straightening, the duel was hard-fought, margins were tight, but Helene Paragon always seemed to have his rival's measure. Able Friend faltered close home and Helene Paragon seized the advantage, stopping the clock at 1m 21.31s, with a leg-sapping final 800m split of 44.28s (22.16, 22.12).
"I was right out of my comfort zone in the early stages," Berry said.
"I just had to get him in his comfort zone; I didn't want to rush him early to get on the back of them. I knew that there was going to be some stage – usually at the first corner is where they put on the brakes a little bit – where I'd be able to make my ground and catch up to him.
"I knew that Able Friend wasn't as fit as my bloke.
"My bloke's had a few more miles under his belt this preparation and I used that to my advantage out there. Coming down to the bend I peeled out and thought I wanted to get within at least a length of Able Friend before he'd let down, otherwise I wouldn't be able to go with him because I know what he can do on his day. Still, full credit to Able Friend, he fought it out to the wire and it was just that last 50 metres where fitness probably told and I was able to get the heads up on him.
"But I still think Able Friend's going great and he shouldn't lose any admirers, but make no mistake, my bloke keeps improving – he's only very lightly-raced and he's only going to get better as he gets older."
Moore, for whom this was a sixth win in the race, will now focus on the G1 Champions Mile at Sha Tin on May 7 for Helene Paragon. The five-year-old is the first French-bred horse to succeed in the Queen's Silver Jubilee Cup.
"After this, we'll just have to have a look but his target will be the Champions Mile," the handler said.
Gerald Mosse was delighted with Joyful Trinity. The former French-trained galloper has made the frame in each of the three G1 races he has contested since arriving in Hong Kong.
"He ran very well, I'm very pleased with him," the jockey said.
"I tried to get everything out of him, I waited, I came late, and he gave me a good finish. He gave me a really good kick and he reached the line well. He looked like he was going to go and fight with them but he just got to them and the two in front were too strong for him."
Moore ended the day with a four-timer that also included Werther in the day's other G1 feature, the Citi Hong Kong Gold Cup (2000m).