Golden Slipper market turned on its head after huge day of racing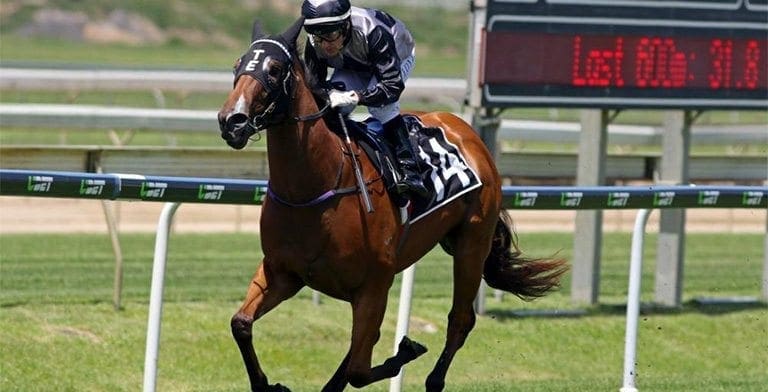 Houtzen has firmed in contention for the Golden Slipper following a strong win on Saturday.
SHE Will Reign has drifted from $2.60 to $3.60 at Ladbrokes.com.au in the Golden Slipper betting market after tasting defeat for the first time at Randwick on Saturday.
The filly's stranglehold on the Slipper market slipped on Saturday after failing to make it through the heavy 9 track at Randwick, losing out to fellow Golden Slipper contender Frolic – which firmed into $11 on the back of the run.
Trainer Gary Portelli said She Will Reign struggled to adapt to the wet conditions, but will be better for the run.
"She didn't really handle those conditions, but she was alright. If you are going to get beaten you rather it on this day rather than Slipper day," Portelli said.
"She had a good blow after it. She needed that run to be right for the Slipper."
Portelli said nothing changes going into the world's richest two-year-old race, with the master trainer pleased with the performance.
"I'm not that concerned she got beaten because she went outstanding."
The big firmer in the Slipper market after Saturday was Queensland star Houtzen.
The glamour filly of the sunshine state hammered its rivals to record a dominant two-length win, and subsequently firmed from $6 to $4.40 at Ladbrokes for the Golden Slipper.
Jockey Jeff Lloyd was quoted as saying "I wonder who's favourite now?" as he took Houtzen back to the stables following the sparkling win.
The veteran hoop said Houtzen is a genuine contender for the best young prospect he has ever seen.
"She ranks among the best two-year-old I've ridden. She puts bad luck behind her and she has the best temperament in the world," Lloyd said.
"The only problem I had was the 1000m start. It's really tight and you only get 100m before the first turn, so any mistakes out of the barrier can be very costly.
"But she was her true self, came out real quick and put that doubt behind me."
2017 Golden Slipper betting market
Odds provided by Ladbrokes.com.au
She Will Reign – $3.60
Houtzen – $4.40 with Ladbrokes
Catchy – $11
Frolic – $11
Pariah – $13
Chauffeur – $15
Gunnison – $15
Menari – $15
Invader – $17
Muraaqeb – $17
Trekking – $17
Limbo Soul – $21
Veranillo – $21
Astoria – $26
Condor Heroes – $26
Formality – $26
Invincible Star – $26