Four wins pits Purton in premiership battle with Moreira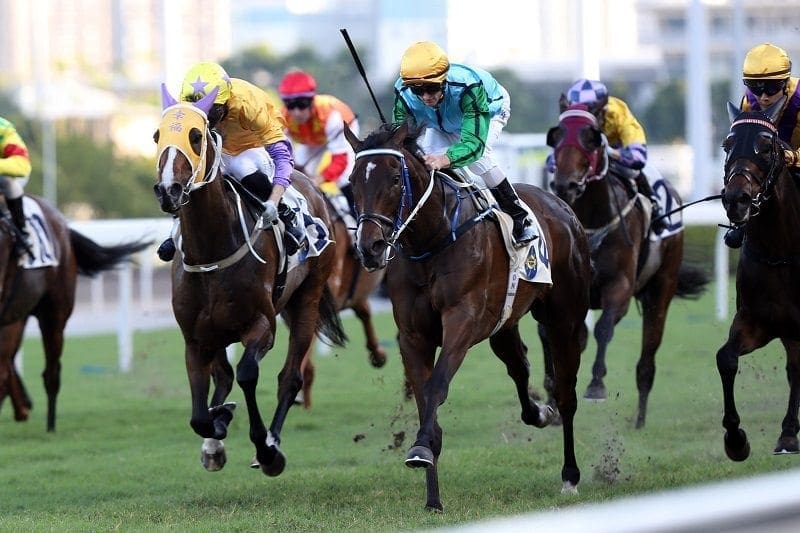 Rider Zac Purton made big in-roads in his quest for a second jockeys' championship at Sha Tin today (Sunday, 20 May) with a four-timer, including three for leading supporter Caspar Fownes.
Purton's victories on the Fownes-trained trio Play It, Montreal and Rise High and the John Moore-prepared Solar Patch took the Australian jockey to 104 wins for the season, four adrift of chief rival Joao Moreira, who went winless on the card.
"It's a funny feeling, I have ridden four winners and I'm happy with that but I know there were some missed opportunities there too," Purton said. "Still, four winners eats into Joao's lead and hopefully I can make the most of every chance I get over the next two months."
Fownes and Purton have forged a noteworthy partnership in recent years that was only bolstered by the pair's combined treble. However, the trainer said that he would be supporting both riders in their jockeys' championship battle.
"It's exciting for us as racing fans and exciting for the two boys," Fownes said.
"Both Joao and Zac have been riding for me, but recently Zac has probably ridden for me more. The rides are there for both jockeys, though, so whoever wants the rides can have them."
Rise High entered the Class 2 Tourmaline Handicap as a warm $2.70 favourite. However, the four-year-old had to survive interference in the stretch and a post-race objection before he was officially declared the winner of the 1600m closer.
"It was a good effort from my horse to pick up and win that race," Purton said.
"There wasn't that much speed early and they didn't go quick mid-race. Then, when my horse was hampered, it really put Rise High off balance and I thought at that time he was laboring for a little bit. The last 75m, though, he showed plenty of heart to find the line."
Fownes continued: "He's a nice horse, there are bigger and better things in store for him. He's going to be a very nice prospect next season. He's enjoying his racing now and it's really showing."
Montreal, formerly trained by Gai Waterhouse and Adrian Bott in Australia, had arrived in Hong Kong with a big wrap on him, cemented by two wide-margin victories at his last two starts in New South Wales. He showed that he was a horse headed higher with an effortless two and a quarter length victory at his second Sha Tin start in the Class 3 Lapis Lazuli Handicap over the straight 1000m.
"We expected plenty of improvement with him from his first to his second run," Fownes said.
"He's a big horse and we didn't give him a lot of work going into his first run. We've treated him all along like he's a really nice horse and, now he's shown us that, we can head around the turn with him. I think a nice 1200m will be even better for him.
"Like Rise High, I think he's a triple-figure horse. Hong Kong is tough once you get past 100, it separates the men from the boys, but if he can stay sound, I think he has quite the future here."
The first leg of the Fownes-Purton treble came up in the day's opening race, the Class 4 Alexandrite Handicap (2200m), with Play It. Purton made a decisive move at the 1200m, dashing from beyond midfield to the lead, with the Paco Boy five-year-old sustaining the run through the line.
"The thing in Hong Kong is that when you get to races at 2000m and beyond, particularly to the 2200m, there aren't many horses that can run the distance," Purton said.
"So if you are on the right horse, you can make it a staying test and give yourself a chance. He was in that category. He is fit, Caspar's horses always are, and there was no point sitting back and trying to catch them because he hasn't shown a liking for that."
Purton also took the feature Class 3 The Racing Club 10th Anniversary Cup Handicap (1400m) aboard Moore's Solar Patch. The three-year-old made it two wins from three starts in Hong Kong, with Moore suggesting that the gelding could furnish into a Hong Kong Classic Mile contender next season.
"He took a little while to hit his straps in Australia," Moore said.
"We had a little bit of trouble qualifying him and if he hadn't won at Ipswich, we may never have seen him up here because he was running out of races. I've always had a lot of time for the horse though, his trainer in Queensland Bryan Guy told me that we'd have some fun with him and he's really turned into something quite nice.
"It was a muddling speed today and that can bring a lot of horses undone, but Zac didn't panic, he was able to force a passage, and what was exciting was that the horse was determined to race through the gap and then hit the line strongly. Now we've got a horse that is a great addition to the stable and one of the better horses for next season in the bigger races – I'm an optimist and I'd say the Four-Year-Old Classic Series is a big chance for him."
Jockey Alberto Sanna also scored a double, taking the first section of the Class 4 Garnet Handicap (1400m) on the Derek Cruz-trained Bossiee and the Class 4 Onyx Handicap (1200m) on trainer Frankie Lor's debutant Looking Good.
Racing returns to Happy Valley on Wednesday night (23 May), while the final Group 1 of the Hong Kong season, the Standard Chartered Champions & Chater Cup (2400m), and the Group 3 Sha Tin Vase Handicap (1200m) headline next Sunday's (27 May) Sha Tin meeting.