Forever Unbridled out to Make History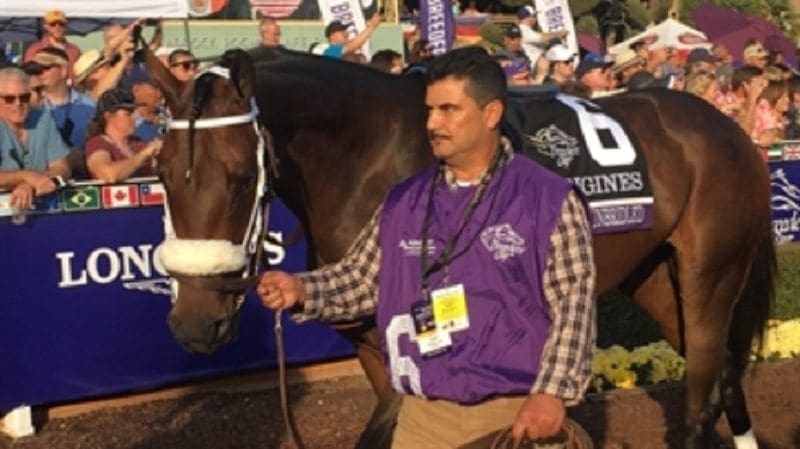 No filly or mare has ever won the Group 1 US$10 million Dubai World Cup sponsored by Emirates Airline, but trainer Dallas Stewart knows a few things about good fillies and mares capable of beating the best males at the top level.
A former assistant to iconic American conditioner, 'The Coach' D. Wayne Lukas, Stewart was integral to the development of 1987 Kentucky Derby (Group 1)-winning filly Winning Colors, whom he also galloped in the mornings, as well as Lady's Secret, who defeated males a year prior in Saratoga's Whitney Handicap (Group 1) en route to being crowned Horse of the Year.
As a head trainer, Stewart, 58, has trained his fair share of top fillies, including Breeders' Cup Distaff (Group 1) winner Unbridled Elaine and Kentucky Oaks (Group 1) winner Lemons Forever, and it is with the latter's daughter, Forever Unbridled, that he holds a serious claim to victory in the Dubai World Cup this year.
Like Unbridled Elaine and last year's Dubai World Cup victor Arrogate, Forever Unbridled is an offspring of Unbridled's Song. She is also a sister to Group 1 winner Unbridled Forever, so expectations have been as broad as the sizeable shoulders with which her sire often stamps his best babies.
"She's as good as any I've ever been around," Stewart said. "I've been around some great ones like Winning Colors and Lady's Secret, too. I won't say that she's better because good is good. It's like (NFL players) Tom Brady or Drew Brees. They're both great quarterbacks who have done great things. She's definitely a quarterback."
The three-time Group 1 winner has earned $3,186,880 in her career and is fresh off her biggest victory, the Longines Breeders' Cup Distaff (Group 1) in early November. She is currently preparing for her invasion of Dubai at her winter headquarters of Fair Grounds Race Course in New Orleans, Louisiana.
At the turn of the year, worry began to swirl among fans regarding her Dubai World Cup prospects, as she had only one breeze (in mid-December) and did not compete in the $16 million Pegasus World Cup Invitational (Group 1), a race that was originally on the Charles Fipke homebred's radar.
Much to her supporters' delight, she returned to the recorded work tab on February 3rd with an 800m drill in 49.40 seconds – a sharp time over a Fair Grounds surface known for its ability to get horses fit. She then shot back six days later with a 1000m breeze in 1:01 flat, which was nearly a bullet (the fastest of the morning at that distance) of 39 works. A week later, on February 16th, she whistled through a 1200m work in 1:12.40 at the same New Orleans oval that prepared Gun Runner for his game runner-up victory in the 2017 Dubai World Cup.
"She's never left training," Stewart said. "She's right on schedule. She's been right here the whole time and hasn't missed a day of training, other than a couple days that the track froze and when there wasn't training on Christmas. Other than that, she's been out there every day."
The 6-year-old star mare, who will likely ship in about 10 days out from the 2000m race, will be attempting said distance for the first time in her career. In fact, she has never raced beyond the 1800m of her previous six starts, but she has five victories from eight career tries at that trip.
"I think she'll love the extra distance," Stewart said. "You never know until you race, of course, but she acts like it and she has plenty of stamina. You never know about the boys, but the best I've seen is Winning Colors and, like I said, she's as good as she was. She's looking great. Like an amazon."
Forever Unbridled would be Stewart's first runner in Dubai, but jockey John Velazquez won the Dubai World Cup in 2005 with Roses in May at Nad Al Sheba Racecourse. Fipke has kept a few horses in Dubai over the last couple years with Doug Watson, including Bee Jersey, who was 15th in last year's UAE Derby (Group 2).
In 17 starts, Forever Unbridled has eight victories and has been in the top three 15 times. In 2017, she was crowned America's champion dirt mare after racing just thrice, but winning all three – the Fleur de Lis Handicap (Group 2) in June carrying top weight, Personal Ensign (Group 1) over dual champion Songbird in August and aforementioned Breeders' Cup, where she defeated six Group 1 winners and three champions.
While no filly or mare has won the Dubai World Cup, Japan's champion mare To the Victory did finish second in 2001 behind Captain Steve.