Dwayne Dunn retains lead in Melbourne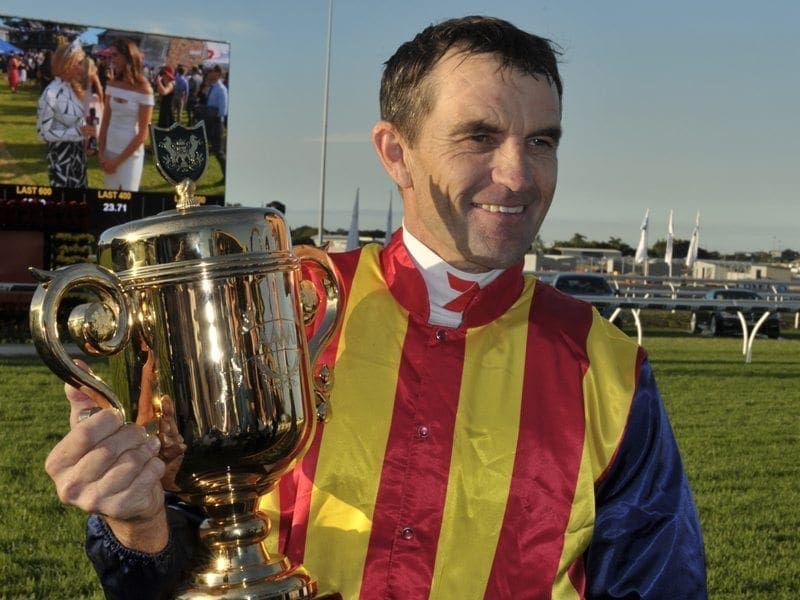 Dwayne Dunn returns to Melbourne racing with the Stradbroke Handicap trophy.
Dwayne Dunn returns to Melbourne racing with the Stradbroke Handicap trophy and a slender lead in the jockeys' premiership.
While Dunn was at Eagle Farm on Saturday to win Brisbane's signature race on Under The Louvre, he took advantage of any break during the day to keep an eye on Flemington.
His nearest rival in the battle for the Melbourne jockeys' title, Craig Williams, rode one winner to close the gap to two.
Damien Oliver's chances of an 11th Melbourne premiership have hit a snag with a suspension from Eagle Farm to begin after he rides at Mornington on Monday.
Dunn said the Stradbroke had panned out as he had hoped when he was able to follow Black Heart Bart who had beaten Under The Louvre in the Goodwood in Adelaide.

"Of course I am keen to win the Melbourne premiership. It would be a real honour. But I have been coming up here for a few years now and been competitive without winning," Dunn said.
"So it was great to win for Robert (trainer Smerdon) and I would love to come back next year and do it again.
"My mission was to get on Black Heart Bart's back because I thought he would be the one to beat. The Goodwood form has really stood up this year."
Oliver, Williams and Dunn will all ride at the metropolitan class meeting at Mornington.
Dunn certainly had a better day than nine other visiting jockeys who were fined a total $4450 for whip rule breaches.
Lester Grace ($200), Tommy Berry ($400), Tye Angland ($300), Joe Moreira ($500), Sam Clipperton ($400), Adam Hyeronimus ($400), Blake Shinn ($500), Vin Colgan ($750) and Brad Rawiller ($1000) were all fined for going over the limit.