Dubai World Cup Race Notes, Friday, March 30, 2018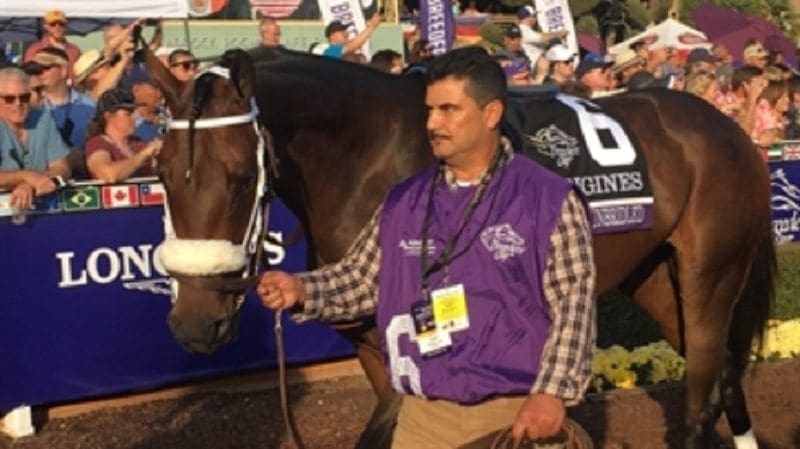 Awardee – Had an easy canter around the dirt track.
"Everything has been under control," trainer Mikio Matsunaga said.
"As he was here last year, so he knows the place very well. I hope he won't be trapped on the inside and he can keep his rhythm during the trip on Saturday."
Forever Unbridled – Charles Fipke's champion mare maintained the exact same schedule she has all week, coming out to
train at 5.15am and galloped 2400m with exercise rider Pedro Velez aboard.
"Everything's good," trainer Dallas Stewart said.
Stewart has been happy all week with how well Forever Unbridled has adjusted to Dubai and credits that to keeping everything familiar to her, including having Velez and Marcelino Jucinde, who have been with the trainer for 17 and 30 years, respectively, with her.
"We just want her to be comfortable and these two guys have been with her the whole time," Stewart said. "It's just an amazing how she's showing up for the race. She's doing great."
Jockey Mike Smith, who won the Dubai World Cup last year with Arrogate, will be reunited with Forever Unbridled on Saturday for the first time since finishing unplaced in the 2015 Kentucky Oaks.
"She was very immature and inexperienced in the Oaks," Smith said. "She's much older and has the experience now. If the Americans are going to pull this off Saturday, she's one of the horses that can do it."
Furia Cruzada – Erwan Charpy continued his low-key preparations for his well-travelled mare.
"Again, we just had a light 2200m canter away from all of the excitement," Charpy said. "We're all happy. I imagine she'll do what she always does, follow the pace and hopefully she's good enough to get a place."
Gunnevera – Arriving at the very end of the 5am training period at the Meydan dirt track, Gunnevera galloped once around the oval at a leisurely pace and seemed to be traveling easily after incurring a foot bruise on Wednesday.
"It was very, very good," trainer Antonio Sano said. "The work is finished now, so we'll know tomorrow how he does. He's ready."
A farrier worked on Gunnevera's left front foot on Wednesday, soaking it and removing the shoe before replacing it on Thursday morning.
The 4-year-old colt schooled in the starting gate on Thursday and jogged briefly afterward, and he continued to be monitored by the farrier for the rest of Thursday. Sano pronounced that Gunnevera seemed to be completely over the setback as of his Friday appearance at the track.
"Luckily, he recovered 100%," Sano said. "It's all OK."
Gunnevera changed leads while completing his morning exercise and did not display any tenderness, Sano said that exercise rider Victor O'Farell related to him at the conclusion of the gallop.
North America – Satish Seemar, the UAE's senior trainer with 27 years' experience to his name, saddles what he describes as "Zabeel Stable's best-ever team" on the world's richest single-day racecard, headed by North Americain the Dubai World Cup Sponsored by Emirates Airline (Group 1), the biggest prize of all.
One winner from 48 runners at the meeting in 23 years is a reflection that he usually turns up but not with heavily fancied chances. This year is different, he admits.
"If North American had not won the Al Maktoum Challenge R3 so impressively, we would be just glad to be in the race," he said, "but now I'm very positive. Not only does he deserve to be in the race, but I'm confident he will be aiming for a top three finish."
Reflecting on his five-strong team, who completed their preparation easy hack canters over 1600m to 2000m on Friday morning, Seemar said, "I've been involved in big races before, but this year is more exciting because we are fielding better quality horses.
"These are local horses, and everywhere I have been this week people from the media to those I meet in town have been commenting on our string. It's very nice for me and the staff, but it's more important for Dubai, because we are representing the country."
Pavel – Gallop rider Amir Cedeno piloted Pavel through an easy canter over the Meydan dirt track just after 7am.
Bret Jones, son of Pavel's co-breeder Brereton C. Jones (Airdrie Stud), was trackside to watch the handsome grey son of Creative Cause.
"He's very much his father's son. He's a big, beautiful grey colt," Jones said.
Pavel is from the first crop of the Grade 1 winner Creative Cause who stands at Airdrie.
"We sold him (Pavel) as a weanling to try and showcase Creative Cause," Jones said. "It's a chance to get out and show the breeders what kind of good looking horses our stallions are producing. We sold the foal to Jamie Hill and Mike McMahon, two very good judges, and it's been a lot of fun to watch him grow up and become a top horse."
Creative Cause earned Grade 1 status as a juvenile with a score in the 2011 Norfolk Stakes, at Santa Anita Park. A son of Giant's Causeway, Creative Cause boasts a pair of Grade 2 wins (Best Pal and San Felipe Stakes) and a pair of Grade 1 events (Del Mar Futurity, Santa Anita Derby).
The talented grey ran fifth in the 2012 Kentucky Derby, a race which was won by Pavel's connections – owner J. Paul
Reddam, trainer Doug O'Neill and jockey Mario Gutierrez – and was retired following a strong third in the Grade 1 Preakness.
"We had probably the highest expectations of him coming in as any stallion we've ever stood because we really felt like we had something," said Jones. "It's a cliché, but he checked all the boxes. He was a real talented racehorse, a Grade 1 winner as a 2-year-old, and was right there with the best of his generation."
Talismanic – Of the André Fabre trained quartet that has travelled to Dubai, Talismanic seems to be the one who is the most relaxed and comfortable with his new surroundings. Ridden by Amelie Foulon, he came onto the dirt track at Meydan racecourse at the usual time of 7am for a steady canter over 1400m, accompanied by Rosa Imperial. He looked his usual self and his work rider confirmed: "All is well, he's happy."
Thunder Snow – The horse Saeed bin Suroor hopes can provide him a eighth winner of the Dubai World Cup finished his preparations with a gentle 2000m canter around the Al Quoz training track.
"He is in great shape and this was the race we hoped to aim at from the beginning of the Dubai World Cup Carnival so we are delighted to be in the field," Bin Suroor said. "Obviously it is a strong race with those campaigned at the carnival joined by very good horses from America and Japan so it is both competitive and exciting. It is always a big night for all at Godolphin and we are very much looking forward to it."
West Coast/Mubtaahij – Friday morning Bob Baffert was told that Mubtaahij translates as "happy" in Arabic, and that is exactly what the 6-year-old horse and the trainer's other entrant, West Coast, were deemed to be after undertaking their final morning gallops.
Gary and Mary's West Coast went out shortly after 5am under regular exercise rider Dana Barnes for an easy 2000m gallop, and then His Highness Sheikh Mohammed bin Khalifa bin Saeed Al Maktoum's Mubtaahij did the same with her in the irons around 7.15am.
"They're happy and I'm happy. West Coast has looked strong the whole week and has even filled out. He has natural speed and the mile-and-a-quarter (2000m) is his game, but he still has to break good and get around there (in the race).
He's got to get up there and be close and then kick home. That's his style. But, this race is a mad scramble. They (the jockeys) ride to the first turn like there's sack of a million dollars there," Baffert said.
When the plane carrying Mubtaahij and West Coast home to Baffert's stable in Southern California, there will be another passenger aboard. Rayya, a three-year-old filly taking on the boys for the first time in Saturday's UAE Derby (Group 2) sponsored by the Saeed & Mohammed Al Naboodah Group following her win in the UAE Oaks (Group 3), is being transferred from Doug Watson's stable here.