SOME of Australia's best fillies have won the Crown Oaks at the Flemington racecourse and it is a race which holds plenty of interest to the betting public.
The Crown Oaks is the biggest race for three-year-old fillies and carries a purse of $1 million with recent winners including Dear Demi and Miss Finland.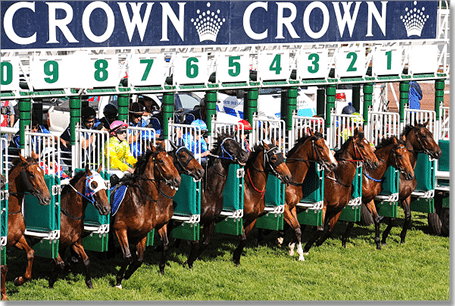 The staying test is run on the Thursday after the Melbourne Cup and it is traditionally the day dedicated to ladies of the race track, with the dress code usually high-end fashion.
Despite the glitz and glam associated with Crown Oaks Day it is a highly-respected day of racing, with the group one race one of the major highlights.
Some of Australia's best fillies have won the Crown Oaks on Ladies Day and even though it isn't held on a public holiday, it doesn't stop the crowds from flocking to Flemington to have a punt.
The Crown Oaks is often called the mares equivalent of the VRC Derby, which is held earlier in the spring carnival, and holds similar appear for punters.
The Group 2 Wakeful Stakes is often a race which gives a good gauge of the form heading into the Crown Oaks, with it coming on the Saturday before the race.
Another which often provides an indicator is the Thousand Guineas, which is an earlier race in the spring, dedicated to three year old fillies. It has proven a deceptively good guide despite only being over a 1600m journey.
2017 Victoria Oaks odds
Crown Oaks history and race details
The Crown Oaks changed its name from the VRC Oaks in 2007 after casino brand Crown jumped on board to sponsor the race.
The Oaks is for fillies only and coincides with the "Fashions on the Field" which is a fashion competition held by the Victorian Racing Club.
One of the most popular days on the Australian calendar, the Crown Oaks day boasted a crowd of over 110,000 people in 2004 which is a record for the day.
The race changed from 2400 metres to 2500 metres in 1973 and gained Group 1 status in 1979, where it was won by Brava Jeannie.
Because it is held so late in the Spring it is often more a case of what horses are still able to continue their preparations this late into the carnival.
While it provides a great idea of a horses courage and stamina as a three year old, there have been plenty of great horses to have run unsuccessfully in a Crown Oaks and go on to experience great things in their track careers.
2016 Crown Oaks result
1. Lasqueti Spirit – $151
2. Harlow Gold – $2.10
3. Eleonora – $1.80
Quinella – $513.40
Trifecta – $9189.80
First Four – $20,648.20
2015 Crown Oaks details
Race date: 5th November, 2015
Course: Flemington
Bet: Claim up to $650 in free bets with Crown Oaks sponsor Crownbet.
Recent Crown Oaks winners
2016: Lasqueti Spirit scored the biggest Crown Oaks upset in history when winning at odds of $151. The Lee Curtis-trained filly scored the fairytale win for its connections after one of the best rides throughout the Melbourne spring carnival. Brenton Avdulla pinched a big lead on the daughter of Beneteau and its rivals never looked nicely. Favourite Yankee Rose was beaten by over 20 lengths, but it pulled up with a problem. Read full report.
2015: Jameka established itself as one of the best staying fillies in Australia after scoring a 2.25-length win. The Ciaron Maher-trained runner handled the wet conditions best in what was a heavy Flemington surface. Damien Oliver provided a peach of a ride when beating the likes of Honesta, Ambience and Pasadena Girl.
2014: Set Square provided somewhat of an upset when winning in 2014. Ciaron Maher scored the first of two successive wins in the Crown Oaks when the $7.50 chance burst through to win by 1.5 lengths. The Reset filly was paying double figures when markets opened, but a big push from its punting owners saw the three-year-old start much shorter. The beaten lot didn't amount to much, but the win was full of class.
2013: John Sargent was confident with Kirramosa leading into the Crown Oaks, as were punters who took the $2.50 on offer. The three-year-old filly by Alamosa started as one of the shortest Oaks runners in recent history, but the win wasn't as easy as expected. It held on to win by only a head over Zanbagh, which finished only a short head in front of Solicit. It was one of the better Oaks field in history which also included Arabian Gold and May's Dream.
2012: Dear Demi was another popular winner of the Crown Oaks and punters got the chocolates again. The filly by Dehere won at odds of $4.90 over the well-favoured Zydeci, which finished 1.25 lengths back. Jim Cassidy was the winning rider and his personality was a nice touch to the post-race commentary. It is considered as one of the worst Oaks fields in history with the large majority of entrants offering little in their careers.
Past Crown Oaks winners
2016 – Lasqueti Spirit
2015 – Jameka
2014 – Set Square
2013 – Kirramosa
2012 – Dear Demi
2011 – Mosheen
2010 – Brazilian Pulse
2009 – Faint Perfume
2008 – Samantha Miss
2007 – Arapaho Miss
2006 – Miss Finland
2005 – Serenade Rose
2004 – Hollow Bullet
2003 – Special Harmony
Other notable winners:
1998 – Grand Archway
1988 – Research
1976 – Surround
1964 – Light Fingers
Two champion fillies of the turf have won in recent times. Both Samantha Miss and Miss Finland went on to have stellar careers and the Crown Oaks was the big stepping stone for that to happen.
Running out the 2500-metre distance isn't easy for fillies, so it takes a real tough horse to win the Oaks and most of them either become good sprinter-milers or middle-distance horses.
Past Crown Oaks winning dividends
2014:
Set Square – $7.50/$2.50
Thunder Lady – $2.60
Golconda – $4.70
Quinella – $30.40
Trifecta – $857.60
First Four – $24687.70
2011:
Mosheen – $4.20/$1.60
Dowager Queen – $1.50
Roma Giaconda – $7.60
Quinella – $6.30
Trifecta – $259.60
First Four – $1282.80
2010:
Brazilian Pulse – $2.70/$1.40
Shamrocker – $6.20
Placement – $3.40
Quinella – $33.20
Trifecta – $306.40
First Four – $5066.50
The Crown Oaks has been a favourites race in recent history with Set Square, Mosheen and Brazilian Pulse all being well favoured in the market.
Punters are usually good at determining which horses will see out the distance so look for this when doing the form for the upcoming Crown Oaks at Flemington.