Conghua Racecourse gets seal of approval from international visitors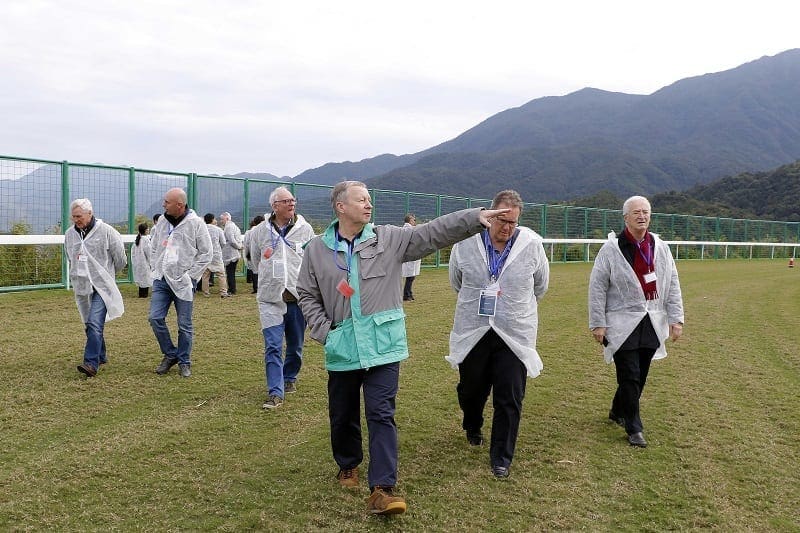 Leading global racing officials visited the Hong Kong Jockey Club's Conghua Racecourse on Monday (10 December) for a glimpse of the future of the sport in Hong Kong and equestrian pursuits in China as a whole.
The party made the 200km trip north from Hong Kong after attending Sunday's HK$93 million Hong Kong International Races. The Hong Kong Jockey Club Chief Executive Officer Winfried Engelbrecht-Bresges led the two-hour tour along with Andrew Harding (Executive Director, Racing) and William Nader (Director of Racing Business and Operations) and guests' reactions provided a ringing endorsement of the HK$3.7 billion project.
Louis Romanet, Chairman of the International Federation of Horseracing Authorities, described the Conghua site as "truly exceptional," while Racing Australia Chief Executive Officer Barry O'Farrell summed it up as "world class and revolutionary."
Dr Makoto Inoue, Vice-Chairman of the Asian Racing Federation and the JRA's Presidential Counsellor for International Affairs, said "the Jockey Club always has a vision of how to move forward," while Ascot Racecourse Chief Executive Officer Guy Henderson declared "this is a gamechanger."
John Ridley, the Club's Director of Racing Capital Projects, conducted the tour which started at Conghua's equine swimming pool. An inspection of the sweeping turf and all-weather tracks followed, viewed from high in the Trainers' Stand.
A close look at the 1100m uphill turf gallop came next, and then a swift downhill swing to see 20 tranquil spelling paddocks. A move indoors took the group around an inspection of an ultra-modern equine hospital narrated by the Club's Head of Veterinary Clinical Services Dr. Chris Riggs.
Next up came a visit to the blacksmith's forge and the upper level of a two-storey stable block, complete with stallion boxes, followed by a trip to the Rehab Stable's equine spa and water treadmill. The tour rounded off with a visit to the luxurious new Owners' Lounge.
Mr. Romanet said: "This was a real challenge for a lot of reasons, but the site has been perfectly conceived in a great surrounding. The design of the stables and the Rehabilitation Centre are particularly impressive, but everything is there and this is a model that will be very difficult to follow for the rest of us."
BEST ONLINE BOOKMAKERS FOR HORSE RACING
Barry O'Farrell was immediately struck by "how the design is all about the welfare of the horses and those who look after them."
He added: "The Hong Kong Jockey Club started with a blank canvas and, from what we've seen today, I don't think they could have done any better. Conghua has all the facilities you could dream of.
"Post tour, I was confident that the Jockey Club's investment, planning and delivery of the Conghua facilities will meet Australia's high biosecurity standards which are of critical importance to our local thoroughbred industry."
Ascot CEO Mr. Henderson identified three particular factors that caught his eye. "First is the meticulous attention to detail," he said.
"Second, the incredibly efficient integration of staff. And third, there is clearly a long-term ambition to create a model in which horses with long-term stallion value can thrive. All in all, a deeply impressive execution of a visionary project."
The Hong Kong Jockey Club Chief Executive Officer Winfried Engelbrecht-Bresges is highly confident that Conghua can help Hong Kong racing "elevate to an even higher level of excellence" and is delighted with the way things have progressed since the official opening on 28 August.
"We spoke a lot about what we want to achieve for the Hong Kong racing industry," he said.
"The feedback was extremely positive and people can now appreciate how much potential Conghua has and also how it can help China in the development of equestrian sport."