Clipperton's "stoked" for his Yasuda Kinen debut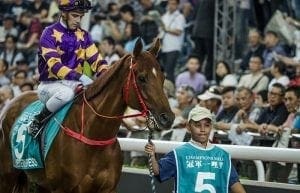 Mount Fuji was out to greet Sam Clipperton at Tokyo Racecourse this morning (Friday, 1 June) and the first-time visitor didn't miss the Instagram moment, slipping his phone from khaki shorts and snapping a grab of the distant azure-backed white peak.
"I arrived last night, I've never been to Japan before, and what I've seen so far it's everything I could have expected – it's amazing. It's very exciting, it's good exposure being here and it's somewhere I've always wanted to ride," the jockey said, as he addressed a keen huddle of media before a planned walk of the turf course.
"They're amazing facilities," he continued, behind him the imposing grandstand that on Sunday will likely hold close to 60,000 racing fans. "And the big track will suit our horse: whatever the result, it's an amazing opportunity and I'm looking forward to the experience."
Clipperton will get his first taste of a Japanese race-day when he springs aboard Western Express for this weekend's grand feature, the Group 1 Yasuda Kinen (1600m). But, despite being in the plate for four of the gelding's 10 starts this term, including the five-year-old's two career peak efforts, he almost missed out on this booking.
Hugh Bowman was supposed to partner Western Express on Sunday.
Australia's top rider, one of only a handful of jockeys worthy of mention in the ever-running "world's best" debate, and in the midst of a lucrative short stint with the JRA – eight wins from 46 rides – picked up a suspension that ruled him out of the big-race fixture. That opened the door for Clipperton who, like Bowman, is a New South Wales native, albeit from Sydney's surfside Northern Beaches rather than agricultural Dunedoo.
Clipperton is not in the Bowman bracket, not yet, but the 24-year-old has long been touted as one for the top. A two-time Sydney champion apprentice with early connections to Godolphin and the Gai Waterhouse stable, a whirlwind first Hong Kong season in 2016/17 brought 40 wins and lucrative hook-ups with smart horses, mostly for big-time trainer John Moore.
Despite that, he has had to battle through his second campaign, which, having yielded only 17 wins so far, he himself refers to as "not great".

"It has been a great learning season, though," he said. "I've been able to reflect and it's been challenging at times. A few meetings I've only had one ride so it's been pretty difficult. But I've taught myself to really utilise those opportunities.
"It knocks your confidence; it's hard turning up for the races with just one ride and even harder when they have no chance – it's tough on your mind. It's been a good season for developing my mental strength, and, for all that, I'm still getting Group 1 rides, I'm up there fighting for them and I have a ride in the Yasuda Kinen so I'm pretty stoked, really."
Chief among his limited highlights are three Group 1 runner-up returns, two on the admirable Western Express, and all for Size, with the champion trainer having given Clipperton a late call-up for Mr Stunning in the Group 1 Chairman's Sprint Prize (1200m), too.
"We'll try not to put him under too much pressure," Size said. "Certainly his experience with the horse will be beneficial, even though he has no experience of Japan."
Clipperton and Size watched Western Express complete routine exercise under the hot morning sun. The chestnut went six circuits of the trotting ring and two laps of the dirt track at a slow canter.
"He's a very honest horse, he's strong and I think the pace of Japanese racing will suit him, so all things being equal I think he'll run a very good race," the jockey said.
"I'm just happy to be here. The boss is happy, I'm happy," he continued, gesturing to Size, standing alongside in the "JS" embossed blue cap synonymous with his stable.
"I'll arrive quite early on Sunday and watch a few races, and I'm riding a horse for Mr. (Noriyuki) Hori in the last race, so that's quite exciting as well, I'm very grateful for these opportunities."
Clipperton and Western Express will break from gate seven in the field of 16, which features top-class gallopers such as Suave Richard, Persian Knight, Real Steel and last year's third Red Falx.