Chris So's team is getting on-track at the Conghua Training Centre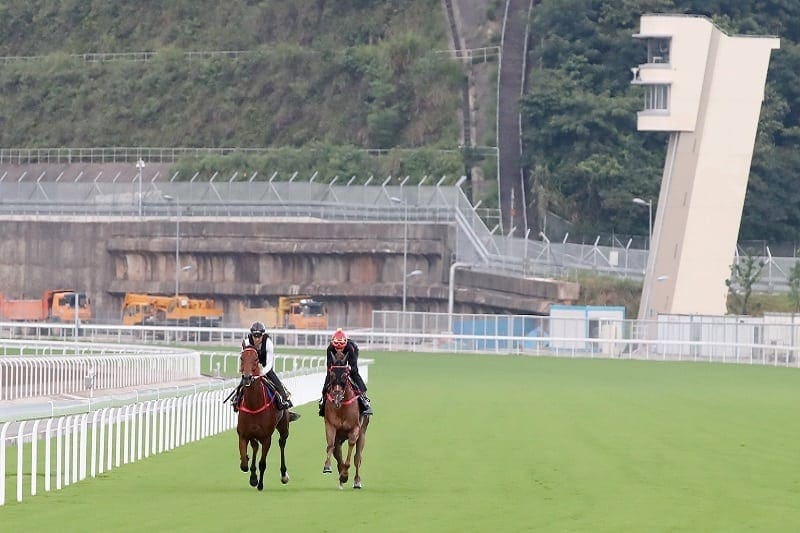 There are 18 days left on the countdown to the start of Hong Kong's 2018/19 racing season and Chris So is busily preparing for what he hopes will be a bolting break from the blocks for his 66-horse string.
One element of the handler's fast-start strategy is his utilisation of the Hong Kong Jockey Club's brand new Conghua Training Centre (CTC).
So is one of nine among Hong Kong's 22-trainer roster tasked with providing the first horses for training out of CTC, a 150-hectare complex in Guangzhou in the Chinese Mainland, about 200km or so from Hong Kong's 40-year-old Sha Tin Racecourse complex.
The handler had seven among the first convoy of 21 horses from Hong Kong to Conghua on 12 July and is the first of his peers to see some of his charges make the return trip to Sha Tin.
"Six of my horses have arrived back (Tuesday, 14 August)," he said, having sent another five to CTC on Monday's northbound convoy.
"Everything's good, they travelled back ok and we'll monitor them in the next two or three days to see how they are doing before we press on with plans."
Those plans include one of the returned, the 102-rated Fabulous One, lining up in the season's opening day feature, the Class 1 HKSAR Chief Executive's Cup (1200m).
"I sent them to Conghua to get them ready for the season," So said.
"The aim with Fabulous One has been to get him ready for the Class 1 on the first day. I took him there to work and he's come back today with a view to having a barrier trial and then to race. He worked there just like he would in Hong Kong and everything was straightforward."
So has more horses at CTC than any other trainer; 26 of the total 129 in situ across the border at time of writing – Danny Shum and champion trainer John Size each have 21 horses on site. The overall CTC population currently includes the Size-trained Premiere, 110-rated and the 2016/17 Champion Griffin, as well as the Tony Cruz-trained The Golden Age, rated 115 after a classy win in the Group 3 Lion Rock Trophy Handicap (1600m) in June.
"My experience with my horses there has been good," So said, "I'm very happy with the facilities."
When CTC has its official "fanfare" opening on 28 August, it will herald a new era for Hong Kong racing.
The Hong Kong Jockey Club spent 20 years trying to find a suitable solution to the land shortage that has prevented expansion of its Sha Tin training centre. Conghua, the site of the equestrian venue for the Guangzhou 2010 Asian Games, provided a way.
That site, more than twice the size of Sha Tin, now boasts stabling for an eventual capacity of more than 650 horses, 20 spelling paddocks, an equine swimming pool, horse walkers, farriery and a large equine clinic, all located around a 2000-metre circumference turf track. The sweeping greensward encircles a pair of 1800m and 1600m dirt tracks, while an 1100m uphill turf gallop offers trainers an aid that Sha Tin cannot offer.
"I love the tracks," So enthused. "I can gallop my horses three days a week on the turf; Tuesday and Saturday you can use the whole track; Thursday, 1000 metres down the back straight. I've been able to work my horses an even amount on dirt and turf, it's great to have the flexibility to do that.
"It's a big thing that's happening; this is a big step for Hong Kong racing."
The trainer, heading into his fifth Hong Kong season, opted to send some of his more seasoned campaigners in the first CTC shipments. At present, though, 70% of the horses stabled there are five years of age or younger, while 58% were imported within the last two seasons.
"I decided to send older horses because they are more straightforward, they are experienced, they know the routines, so that makes it easier for my staff, the new horses I kept here at Sha Tin," So explained.
The handler is pleased with his new staff, recruited in the Chinese Mainland, although he recognises that, as with any newly-trained employees, they are still on a learning curve.
"It will take a bit of time with the workers there but my crew is helping them and teaching them how we do things," he said.
"The Club has done a good job training them the basics that they need to know; of course, experience is very important and naturally it will take a bit of time to get that. It's more about working in groups at Conghua, everyone working together and helping each other as they learn and gain experience. I'm happy with them and I can see them getting better and better each time I visit."
All in all, So is pleased with his initial experience and he believes it has been positive for his horses, too.
"The first horses have enjoyed it," he said. "The first couple of days they were a bit excited but you expect that in any new environment, but after that they relaxed – it's a very relaxing place."
Hong Kong's 88-meeting season will commence on Sunday, 2 September.