Chris So better for the run as he prepares Classic Emperor for Meydan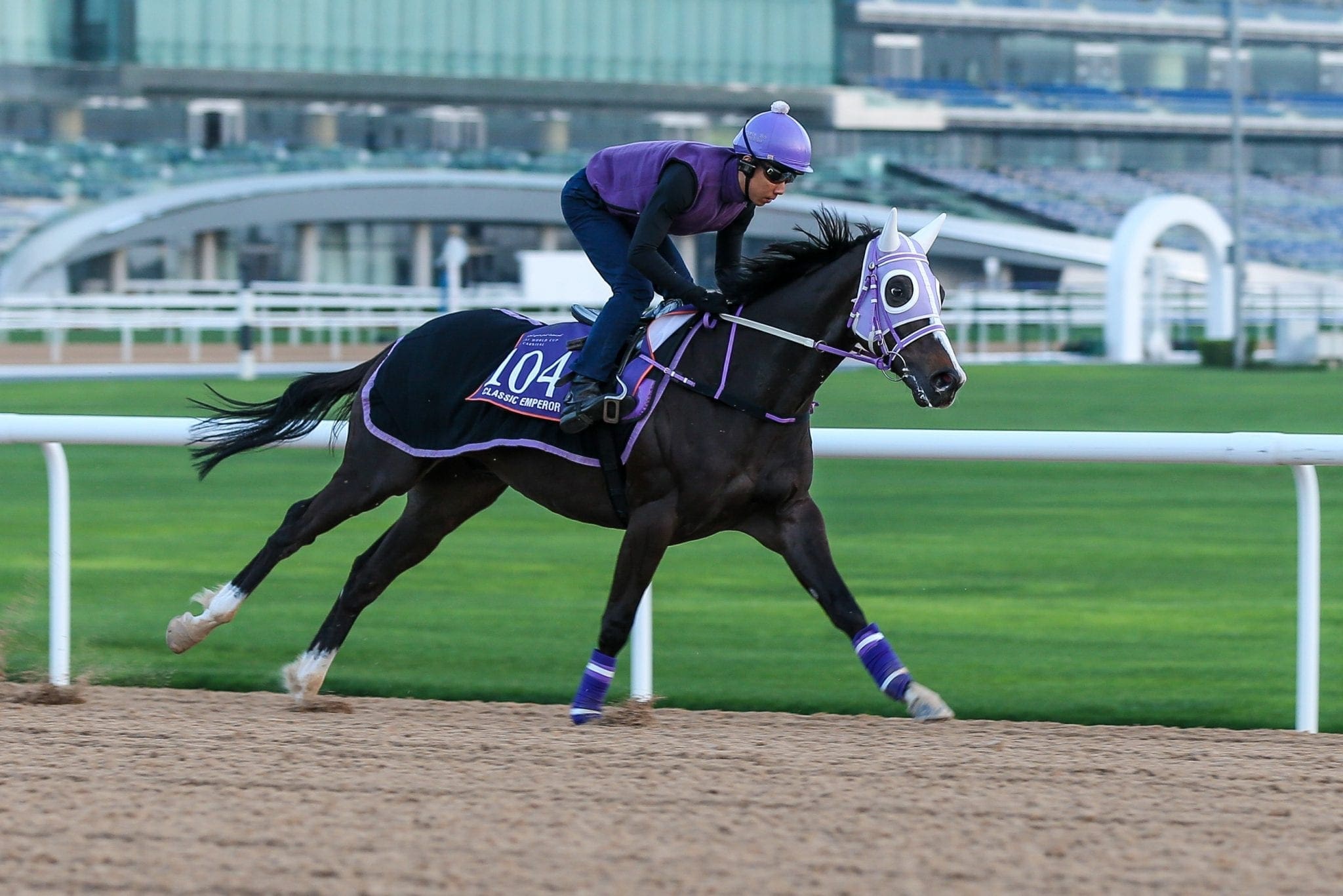 Trainer Chris So has declared himself to be "better with experience" as he prepares Hong Kong raider Classic Emperor for a Dubai debut in the District One Mediterranean, a 1600m dirt handicap at Meydan on Thursday night (22 February).
So, who is in his fifth season of training in Hong Kong, had his first overseas runner last year when Fabulous One competed at the Dubai carnival. That sojourn did not live up to expectations, with the speedster failing to fire in two runs on both dirt and turf.
"Fabulous One had his first run on dirt and he just didn't handle the turns, he couldn't go left-handed – he was so used to going right-handed in Hong Kong," So said at Meydan on Tuesday morning (20 February).
"We were here so we tried the straight but it wasn't the right race. It didn't go well at all, but I feel that I learned so much. For me, I'm like a green horse, better with experience – hopefully that shows this week with Classic Emperor."
So has adopted a different training regime with Classic Emperor that involved more counter-clockwise work, particularly between his last start on 13 January and his departure for Dubai on 8 February.
"I only gave Fabulous One a single gallop left-handed at Sha Tin last year, and I didn't do much with him that way otherwise," So said. "This year, I gave Classic Emperor three gallops left-handed at Sha Tin as well as doing some cantering too. He would go out after all the other horses had finished their work. I was going to trial him, but I didn't want to confuse him! He seems to get on his right leg though and since he's been here, I feel that all the preparation has paid off."
The trainer, who arrived in Dubai on Monday morning (19 February), said it hadn't been an easy journey from Hong Kong for Classic Emperor, but that the six-year-old had started to settle in during the past week.
"I'm very happy, he looks as well as ever and the rider says that he is feeling a lot better than Fabulous One did last year," he said. "The horse left Hong Kong almost two weeks ago and when he first arrived here, he lost his appetite and a bit of weight. It was his first trip away from Hong Kong in almost four years so he wasn't used to it. Everything's back to normal though and I think it all looks good."
Classic Emperor has been a revelation on dirt at his last three starts. A son of Medaglia d'Oro, out of stakes-placed mare Worship The Moon – both dirt track winners in the United States – Classic Emperor was an honest galloper on turf, winning four times from 25 starts. However, he revelled when switching to the Sha Tin all-weather track in November, winning two Class 2 handicaps over 1650m – the first by almost seven lengths, the second by a half-length under 131lb.
"I'm more excited than I was last year, because this has really come out of nothing," So said. "We had planned for six months to bring Fabulous One across, but if you had told me in November that Classic Emperor would have been in Dubai, I wouldn't have believed it. I didn't even enter him for any of these races originally because I didn't want to get ahead of myself.
"He has earned his chance now though, especially given there are not many races for him at home. I'm more confident this year and I hope he can earn a spot on World Cup night."
The race that So is eyeing off on 31 March is the US$1m Group 2 Godolphin Mile, over the same course and distance as Thursday night's handicap.
"They tell me that he's right on the edge of getting in the Godolphin Mile currently," he said. "Ideally, he runs well on Thursday night and then I don't have to run him again – I'd like to go in fresh if possible. However, if I feel he needs another run, there's the Burj Nahaar, a Group 3 race on Super Saturday (10 March), that he could go to."
Jockey Derek Leung will travel to Dubai after Wednesday night's (21 February) Happy Valley meeting to ride Classic Emperor in the eight-runner contest, in which the Hong Kong raider is second in the weights with 59.5kg.