Chilly Cup weather fails to deter Finch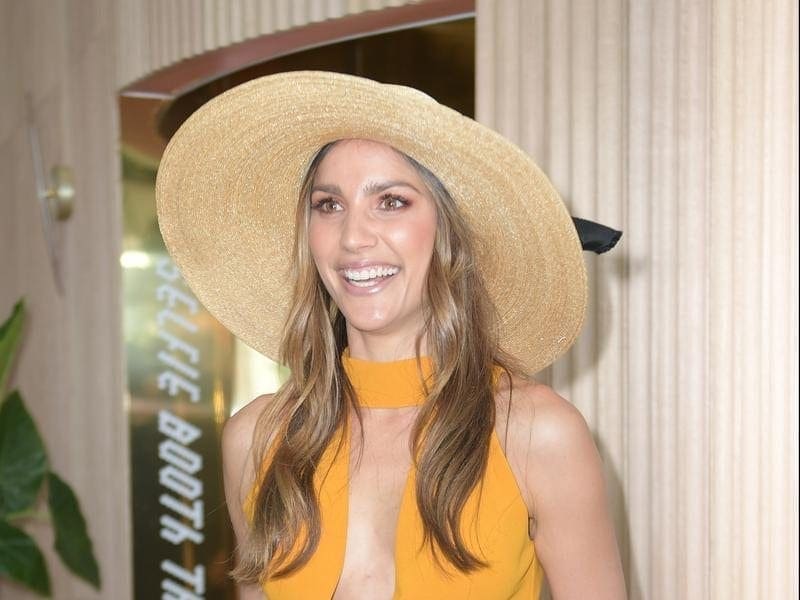 Chilly weather hasn't deterred TV presenter Rachael Finch from attending this year's Melbourne Cup.
Chilly, drizzly Melbourne Cup weather couldn't keep television presenter Rachael Finch away from the race that stops the nation.
"It's a bit tricky but I've got an overcoat," she told AAP in between interviews, while escaping the cool weather.
Finch had just ducked into the 1 Oliver marquee after speaking with the late US pop singer Michael Jackson's daughter Paris who is in the Myer marquee.
"She (Paris) is beautiful and such a gorgeous down-to-earth lady," Finch said.
"She's done a lot of interesting things in her life".
Finch wore a mustard yellow Morrison dress with matching Tony Bianco open-toe stilettos and a straw Nerida Winter hat as she watched a race four in which a jockey took a heavy fall.
Brazilian jockey Joao Moreira fell from his mount Regal Monarch during the race and will not ride Thomas Hobson in the Melbourne Cup.
A top of 16C is forecast for Flemington Racecourse with most of the rain expected to fall before the start of the Melbourne Cup at 3pm.