Can Hartnell turn the tables on Winx in 2017 Chipping Norton?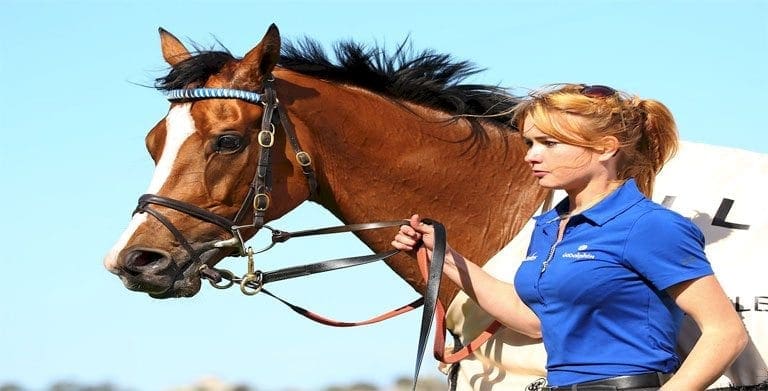 WINX is searching for its 15th consecutive win in this Saturday's Chipping Norton Stakes, but can Hartnell be the one to cause the upset?
It looks the best chance after finishing second behind the champion mare in the Cox Plate and again last start in the Apollo Stakes. Jockey Brenton Avdulla plans to settle Hartnell closer to the pace, in the hopes of tracking Winx down in the straight.
"Usually I'm on one of (Chris) Waller's stayers that are out the back and can't keep up. They are just getting further and further away from me," Avdulla said.
"I will be a bit closer to her this time, how close I don't know, but I will be in the action.
"Hartnell is obviously the second-best middle-distance horse in the country behind Winx. He is a superstar in his own right. He is a dual group one winner.
"But he hasn't beaten her in five meetings and ran three seconds. If it wasn't for her, he would have another couple of group ones. He is a serious horse. It is an honour to be trusted with the ride on him by Godolphin.
"I will be riding him to his best advantage, not trying to just beat her. If we do that, he will be finding the line. I probably need to hope she has a bad day, which she has not had for a long time."
Avdulla was quick to credit Winx on its performance in the Doncaster Handicap, where Avdulla thought he had the race won on Happy Clapper.
"I thought I was home until I saw her flash out the pack at the furlong and knew I was in trouble," Avdulla said. We have seen it plenty of times. There is so much to like about her.
"I just like the way she jumps, she relaxes, she drops her head and when (Hugh) Bowman gives her a shake she goes into overdrive.
"She has that sustained speed for as long as he wants, it seems.

"She is just a superstar."
Avdulla picked up the ride on Hartnell after the injury of James Doyle who broke his wrist earlier this year. He has now become the new top rider for Godolphin and he's happy with how his career is progressing.
"I'm in a good spot with everything I do at the moment. I'm getting good support from Godolphin, plenty of support from Waller, getting plenty of support from Joe Pride," Avdulla said.
"I'm not really tied to one stable but if someone goes by the wayside, I'm there. I'm just fortunate that someone's bad luck can be my good luck.
"It was good to see that Doyle got out of (that fall) all right because it looked a lot worse. But he does miss some crucial rides and I was lucky enough that Godolphin had the faith in me to trust with this ride.
"I looking forward to getting a feel of Hartnell and seeing what he can do."
Chris Waller is happy with Winx heading into the Chipping Norton Stakes, stating the champion mare is holding its weight.
"We weighed her and she's put on a couple of kilos since the Apollo," Waller said.
"So she is holding her racing weight and that's important.
"She is fit and our job is to maintain that and keep her going through the preparation and she's as good as she can be."
Hugh Bowman will take the ride this Saturday after escaping multiple suspensions over the last two weeks.
2017 Chipping Norton Stakes market (all-in)
Winx – $1.15
Hartnell – $9 at Ladbrokes.com.au
Endless Drama – $17
He's Our Rokki – $31
Ambience – $101
Grand Marshal – $101
Lasqueti Spirit – $101
Libran – $101
Magic Hurricane – $101
Preferment – $101
Sacred Master – $101
Tavago – $101
Who Shot Thebarman – $101