Buchanan prepares triple-threat for Tuesday races at Hawkesbury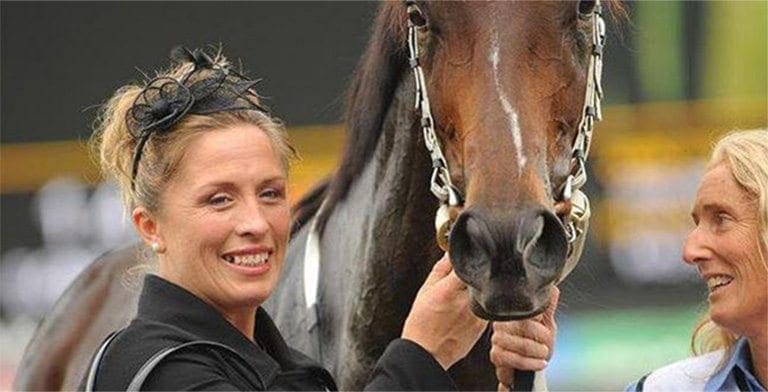 WYONG trainer Kristen Buchanan will head down the M1 towards Hawkesbury on Tuesday with three chances of landing in the winner's circle.
The 37-year-old prepares Niccobelle, Laszlo and Gadot, which will contest races three, five and seven respectively.
Niccobelle steps up to the seven furlong trip for the first time in its career, coming into the event following a fifth at Rosehill over the 1100m on February 18.
A winner of one of his four starts, the bay gelding should be suited by the small field and light weight under the guidance of apprentice hoop, Rachel King.
"I am happy with him leading in – he's a lot more laid-back this time than what he was last prep, where he had been learning and progressing with each run," Buchanan told HorseBetting.com.au.
"We threw him in the deep end last Saturday and ran him against some good horses and he gave the indication that he is more dour as opposed to running in the 1100m races this time around, so we decided to step him up this run over the 1400m.
"It's also a small field, which helps – it's not that he is conscious of the other horses, but he is a really big horse himself and when he gets cover or boxed in he tends to get conscious of his own size more than anything.
"Over the short course he hasn't been as explosive as he was in his first preparation, but with that being said, as we step up to the 1400m I think we may see a different horse."
Buchanan rates Laszlo as her best hope for the day in race five over 1200m, with the lightly-raced son of Teofilo yet to miss a top three finish in his four starts to date.
The four-year-old will be resuming at his first start since November 5, but Buchanan said he is primed and ready for the challenge, which could be the start of a big preparation.
"He is a lovely, genuine horse and he is quite serious about it all," she said.
"You always know he is going to run a good race when he goes to the track, so I am looking forward to him resuming.
"He has been well-placed – his benchmark is low, but I would love to try qualify him for the Provincial Championships – winning the race tomorrow will be critical to that plan for him.
"He has the will to win, which sometimes I think is even more important than ability, but you definitely need both when you start rising in class.
"The thing about him is that he can run nice sectionals, but he is genuine too – he goes out there and he wants to get to the line, he wants to beat the other horses which is a big plus."
Also representing the stable is Gadot in the final event over 1600m, with Buchanan hoping for an improved performance after three recent unplaced runs.
"We have taken a lot of gear off her in order to try something new to see if it helps her – hopefully she can improve," she said.
"Heading down tomorrow I am the most confident about Laszlo, the query with Niccobelle is the 1400m – however I do think he will relish it."
It has been a long road to success for Buchanan who started in the industry more than a decade ago.
"I started out in Perth where I was in University at the time and I had always been around horses in the equestrian field.
"I wanted to find a job that I could do outside of Uni hours, so I started riding track work for Neville Parnham – I started at the bottom and gradually worked my way up by learning what it is all about.
"Coming from an equestrian background I thought I knew everything – but that couldn't have been further from the truth.
"I totally fell in love with the racing industry and 10 years ago I made the decision to move to NSW and I have now been training seven or eight years here at Wyong.
"I am fortunate enough to train at Wyong which I think is one of the best establishments in Australia – I love being here and we are only an hour and a half from the city tracks."
Buchanan said her career highlight came last year when she finally tasted success at group level courtesy of a victory in the Group 2 Sapphire Stakes with Two Blue.
It was a rags to riches story, with the mare having been a reject from the Scone Yearling Sales as her pedigree was deemed 'only average' and her conformation was not up to scratch.
Two Blue was instead retained by her breeders and syndicated to race, with Buchanan steering her to eight wins and 17 minor placings with just under $700,000 in prize money earnings.
But the tale of success won't be ending with Two Blue as Buchanan has high hopes for several emerging talents within her stable including three-year-old gelding Echo Effect which is set to have his first crack at group 1 glory next weekend.
"I would really like to win another couple of group races this year and I think I can with Echo Effect," Buchanan said.
"He is nominated for the Randwick Guineas next Saturday and the Doncaster Handicap down the track – but I still want to take it one step at a time with him.
"I do have big plans for him – the key to being successful in this industry is recognising when you see a horse with talent and having the confidence within yourself to nominate for the big races and give it a go."
Aside from her ambitious plans for the future, Buchanan said she is happy doing what she is doing at the moment and being a part of the racing industry.
"I never feel like I am going to work, but with that being said it can be stressful. I think that's one of the things I like about it though – I love the challenge of it, although we have a routine every day is different.
"It is a passion and a lifestyle – it is not a career or a job to me.
"I love it."