Black Caviar's little girl will win races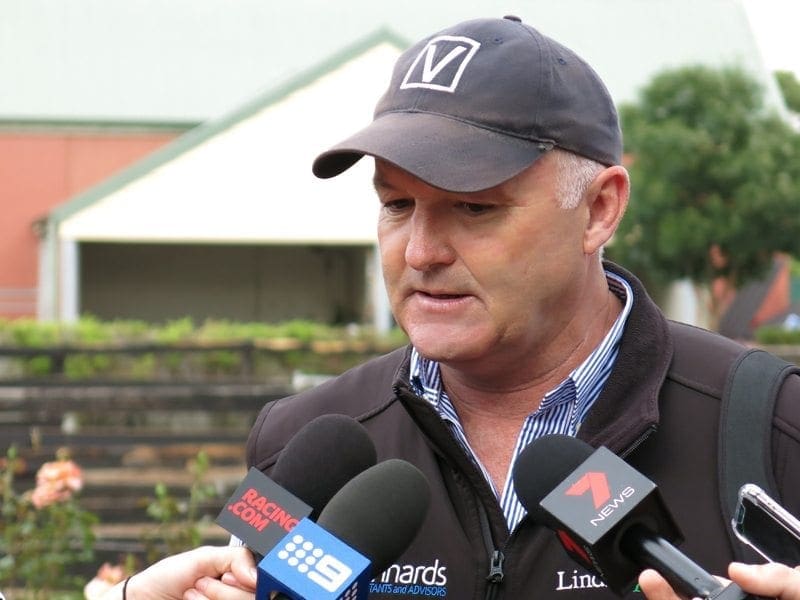 Oscietra has been unable to emulate her famous mother Black Caviar with victory on debut.
Luke Nolen is adamant Oscietra, the first foal of champion mare Black Caviar, will win her fair share of races after her debut third at Flemington.
A large crowd came to witness Oscietra's much-anticipated debut in the New Year Plate on Sunday and while connections were disappointed with the defeat they were happy with the performance.
Oscietra was sent out the $2.10 favourite and finished third behind Limestone ($4.40) and Miss Wahoo ($8), beaten 2-3/4 lengths.
Nolen said comparisons with Black Caviar should now be stopped.
"She's got a really bright future and I think that will be a deep form race," Nolen said.
"That was her first go on the straight course, first go at the races and I thought she handled herself quite well."
Asked how he would sum up the performance if she wasn't Black Caviar's daughter, Nolen said he would be happy.
"Just like I am now," he said.
"Everyone else has probably got a high opinion of her.
"She's opened $1.50. Mum trialled better and she went round at $3.50.
"Mum stopped the clock at Cranbourne at 46 flat and I wasn't doing anything on her.
"She (Oscietra) didn't trial that good and she opened up shorter, so I think there's a bit of public opinion about this horse before she has got to the races.
"But there were more cheers than jeers coming in, well done girl, a good effort first go."
Lindsay Park senior trainer David Hayes said Oscietra would now go for a spell.
He said the filly got lost in the heat of the battle.
"The expectation on the girl is so great," Hayes said.
"I think she will win plenty of races and will get better
"Because she's been going so well in her trials and hasn't been put under much pressure before, when she got out under pressure she responded but the winner had far too many guns."
Hayes said Oscietra was not ready for the feature two-year-old races at this stage of her career and would now be given a breather.
"She's got electric early speed she's going to be better around the bend but her mother and her father were so good down the straight we thought we'd give it a go," he said.