Beauty Only turns back the clock in Chairman's Trophy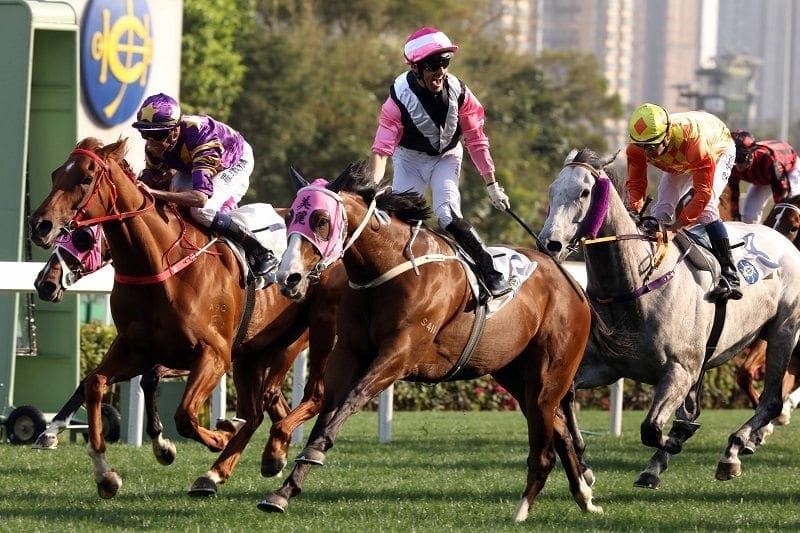 Beauty Only revisited past glories at Sha Tin Racecourse this afternoon (Sunday, 8 April), returning to form with a rattling late run to win an action-packed edition of the Group 2 Chairman's Trophy (1600m).
"He was the horse of old there!" jockey Neil Callan said after his old ally had clocked a swift 22.14s for the final 400 metres.
The winning time was 1m 32.84s, making it the second fastest mile ever run at Sha Tin.
"I've always thought this horse was a super star," trainer Tony Cruz said. "His last run was poor but he's a fast-ground horse and he needs a fast-run race, that's what he got today and he's run three seconds faster than last time, so what does that say?"
The seven-year-old surged to a neck win over Western Express, sealing his second Chairman's Trophy under Callan, two years after the first.
The hulking grey Pingwu Spark took third, while Pakistan Star stormed from the tail to finish a remarkable fourth – jockey Joao Moreira had appeared hard-at-it to keep the reluctant gelding up to a gallop with fully 1200m still to race.
Today's win was Beauty Only's first since a career peak success in the December, 2016 Group 1 Hong Kong Mile.
Since rounding off last term with a fine second in the Group 1 Champions Mile and a close sixth in Japan's Group 1 Yasuda Kinen (1600m), the white-faced bay had failed to make the frame in eight races this campaign. There was even talk of pulling the plug on the Champion Miler's career.
"Tony said to me that the owners were thinking about retiring him and I said 'please, don't,' because I was sure he could win another top-level one this season, for sure," Callan said.
The Irishman was Beauty Only's sole partner through the Holy Roman Emperor gelding's first season, which brought a famous win in the 2015 Hong Kong Classic Mile. But through a 15-run stretch from the May, 2016 Group 1 Champions Mile until this January's Group 1 Stewards' Cup, Callan was absent from the Kwok family galloper's saddle.
"When I got back on him three runs ago, I thought he ran well," Callan said.
"I looked back at the sectionals, and considering how slowly they went, his final sectional was 22.72 (seconds). He was running those sections when he was winning those Group 1s previously, so I knew he still had something in him if the race was run to suit.
"When he ran in the Queen's Silver Jubilee Cup the time after, again the race wasn't run to suit but he still ran a good closing split," he continued.
"There aren't many horses, when they get older, that can still run the last 400 in that time, especially considering the races haven't been run to suit him; he's been at the back and as he's got that little bit older he just doesn't have that sustained sprint from that far out."
This afternoon's field of only nine rivals gave Callan confidence.
"I just knew, with today's smaller field, he could be two lengths closer by default and still run the same sections, so it was perfect for him," he said.
Beauty Only's stablemate Time Warp won the frenetic early rush to secure the lead and took the field through strong splits. Beauty Only settled toward the tail, shifted wide at the 400m mark and began his surge to the wire.
Helene Paragon quickened to the fore with 350m to race but he in turn was swamped at the 200m as Beauty Generation, Pingwu Spark, Western Express and Beauty Only made their plays. The last-named's momentum carried him clear.
"I knew when I came to the corner," Callan said. "The track was running fast so I knew I could sit and wait. And I waited and waited and waited until they straightened up and then as soon as I pulled him out I knew he was going to go past them all.
"He just needed the race run like it's been run today and he's delivered the goods. I'm just glad to get back on him."
Cruz is looking forward to the possibility of more big days with Beauty Only: "I'm going to meet with the owners now," he said. "We keep going! He's still ready to run."
Time Warp, the 3.1 favourite, faded to finish last of 10.
Jockey Zac Purton said: "It was a puzzling run. He went to the gates good, he was relaxed, and I was surprised he packed it in so quickly. It was a fast tempo but in the 1800m race here under Joao, he went a lot quicker and he just got tagged on the line. He didn't feel like he was out of rhythm during the run, he actually felt quite comfortable.
We'll get him back to 2000 (metres) where we know he goes better and hopefully we'll see the best of him."
Star dims his sparkle
While Beauty Only raced home in a sharp split, none was faster than the enigmatic Pakistan Star. The Cruz-trained galloper rifled to the line with a final 400m timed at 21.89s.
The blinkered gelding started well enough but as the field passed the 1200m mark, it looked to all ends as if Pakistan Star was about to repeat the antics of last June when he pulled himself up in the Group 3 Premier Plate (1800m).
But with the pack putting five lengths of daylight on his mount, Moreira was having none of it. The Brazilian rousted Pakistan Star, connected with the tail on the sweeping final turn and galvanised the five-year-old down the stretch to finish just a length and a quarter behind the winner.
"He's done the same thing. He didn't fully stop but he tried – that's a shame," said Moreira.
"After maybe half a furlong he started to pick up again and then he got back into the race but that definitely cost him the win.
"Twice he tried to stop but when he got back into and really let down, he nearly won. Half-way down the straight I thought he was going to win still – it's a shame because he's got so much ability, he's just not putting it all together."
The stewards ruled that Pakistan Star must trial satisfactorily over 1600m on the turf track before being allowed to race again.