Apprentices toast of stable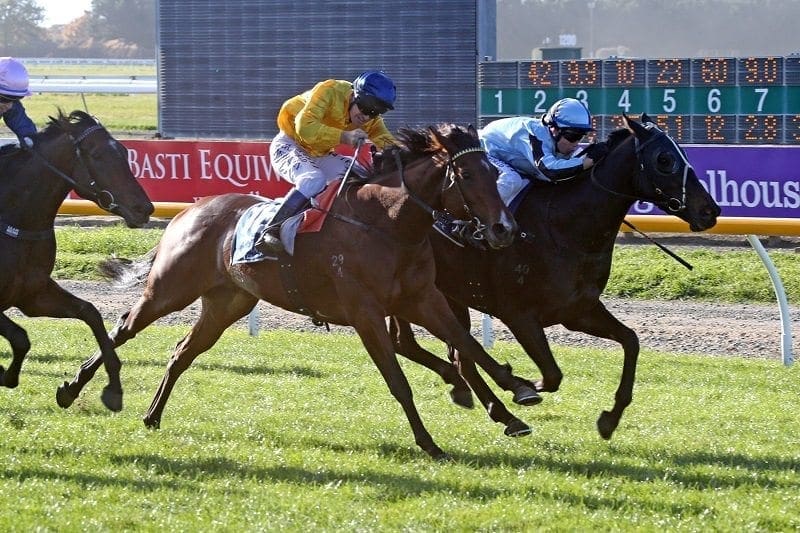 While North Canterbury trainers John and Karen Parsons had a frustrating day at Riccarton last Saturday, a couple of their apprentices achieved milestones.
Gosen Jogo (26), who is in the twilight of his four-year apprenticeship, lost his claim when celebrating his 100th career win on the Jo-Ann Gordon-trained 45-1 longshot Shaara in the Christchurch Casino Sprint (1200m).
A couple of races later fellow Parsons' apprentice Tina Comignaghi (28) landed her second stakes win on the tough filly Courte Zarindi in the Listed New Zealand Bloodstock Warstep Stakes (2000m). And between times the Parsons watched on as their multiple stakeswinner Residential, in the hands of Comignaghi, had to settle for second to Otaki visitor Euphoria.
"It's wasn't a good day for John and I, but it was great to see Gosen and Tina get their wins," Karen Parsons said. "They both deserve it. They work hard. It's just the boost Gosen needs and Tina is going so well. She's got lovely balance and they run for her."
Jogo's century of wins include three stakes victories, all on Residential within a month early last year.
Comignaghi is experiencing her best season with her 21 wins taking her career total to 45 wins and she was thrilled to win the New Zealand Bloodstock Southern Filly of the Year series on Courte Zarindi for Southland trainer Sally McKay.

Comignaghi has had a series of injury setbacks during her riding career which began in 2010-11 with eight wins and she credits McKay, as well as the major input from the Parsons, for putting her back on the successful path.
"I took a four-year break and shifted down with my boyfriend to Invercargill and ended up working for Sally for about six weeks," Comignaghi recals.
"My first winner back from that break was for her on King Pin (at Wingatui 13 months ago).
"Sally has been loyal to me. She put me on Courte Zarindi when she had her first start as a two-year- old at Riverton last year and she's stuck with me lately."
Courte Zarindi provided Comignaghi with her first black-type win when taking the Listed New Zealand Bloodstock Airfreight Stakes (1400m) at Wingatui last month and the pair were unlucky when third in the Listed New Zealand Bloodstock Insurance Stakes (1600m) at Riccarton earlier this month.
Courte Zarindi is now set to enjoy a well-earned spell, while Comignaghi and Jogo will be keen to add to their winning tallies at Wingatui on Tuesday where the Parsons stable have 14 acceptors on the programme.