Al Asayl Double Includes Landmark 100th For Cosgrave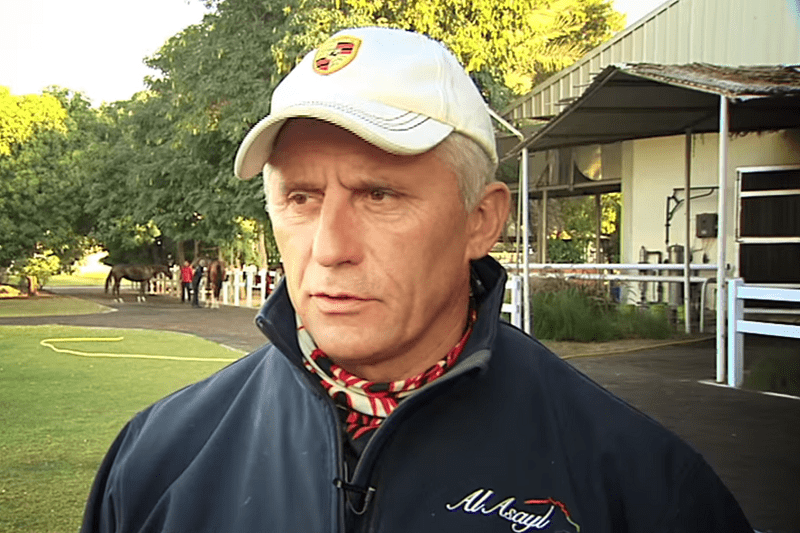 Racing at Al Ain on Friday, a seven-race card, was another productive meeting for the Al Asayl team of His Highness Sheikh Khalifa bin Zayed Al Nahyan and trainer Eric Lemartinel who, after a treble at the course's first meeting of the season last Thursday, combined to win two of the four contests in which they were represented this week.
They kicked off their brace in what was a third 1600m Purebred Arabian maiden on the card, one which produced a landmark outcome for jockey Pat Cosgrave who, riding Marahib for Sheikh Khalifa and Lemartinel, registered his 100th winner in the UAE.
It perhaps seemed unlikely at halfway when Cosgrave appeared to be sending out distress signals in about eighth of the dozen runners, but halfway up the straight, they suddenly loomed large to deny Tadhg O'Shea a double aboard AF Ajwad. Having her ninth start and seventh dirt outing, the 5-year-old mare Marahib was well beaten on her only previous attempt at 1600m, here at Al Ain, but in handicap company at the beginning of December last year.
"That was actually her third run in three weeks so she may get a break now," Cosgrave said. "On form, she was entitled to win that and she has done it nicely enough.All landmarks are great to reach and I hope to add another 100 in the upcoming seasons."
Owner and trainer promptly completed their double but Cosgrave had to settle for third on RB Burning Ash who, in a three way battle, chased home AF Al Baher, another second for O'Shea, and the gallant Faheeda who dug deep to repel the challenges of both second and third throughout the long straight.
For jockey Olivier Doleuze it was a fourth winner from just 11 rides this season and second at Al Ain having won on Joori last week for the same connections. A 4-year-old filly, Faheeda was doubling her career tally on just her seventh outing having won a 1600m Al Ain maiden in January.
A breathless Doleuze said: "That was hard work and she kept losing concentration during the race which made my job a lot harder. She only really has that one pace and I am learning about these Purebred Arabians all the time!"
The only Thoroughbred race, also a 1600m maiden, developed into a duel throughout the long straight between Solar Shower, who led most of the way and Gervais who gained the initiative under Fernando Jara with about 250m remaining. William Lee conjured a renewed effort from Solar Shower but Jara's mount ran on grimly to open his account at the 15th attempt and eighth in the UAE. Trained by Ali Rashid Al Rayhi, for Jumaa Mubarak Al Junaibi, it was a welcome change of luck for Gervais who, on his previous outing, and seasonal debut at Meydan, unseated the unfortunate Ronan Whelan, who has been out of action since, on the first day of November.
This was just his second outing for Al Rayhi, who said: "It is the first time this horse has raced here in Al Ain, though he used to be trained here, and we hoped it would suit him which it has. Our horses have been running well all season."
Jara added: "I thought we were going to win quite easily but then he noticed the big screen or the large crowd and almost tried to stop. But he ran on again when the other horse challenged. He is a bit of a character because, you may have noticed, he was reluctant to enter the winner's enclosure and was seemingly very nervous."
When Fahadd and Richard Mullen, sporting the green and yellow checks of Sheikh Mansour bin Zayed Al Nahyan, hit the front 600m out in the 1400m handicap, sweeping past AF Al Mehleb, they looked set to record an easy victory.
However, nobody had told the latter, dwarfed by Mullen's mount but who refused to be intimidated and kept battling for Fernando Jara, probably regaining the initiative 100m from the line, only to be denied in the final strides in a thrilling finish. Saddled by Ahmed Al Mehairibi, celebrating his first winner of the season, the 6-year-old Fahadd was winning for a fourth time and doubling his account on dirt in the process.
Mullen said: "He is not an easy horse to ride because you do not want to hit the front too soon but you cannot tuck him in behind as he resents the kickback. To be honest, on the line, I thought we were beaten and actually said well done to Fernando. I am very happy to be wrong and lucky to be able to ride these good horses for Sheikh Mansour."
BEST: BOOKMAKERS FOR HORSE RACING
The meeting concluded with a 1000m handicap and it was the turn of Irfan Ellahi to saddle his first winner of the season, JAP Yajoud, who led close home under Royston Ffrench to deny the Al Asayl team a treble and Cosgrave a double.
The opening 1600m maiden, restricted to horses campaigned by private owners, proved a pretty straightforward victory for AF Mo'Assess who was sent straight to the front by O'Shea and was never headed, chased throughout by Reeh Al Janoob who finished runner-up. Making his seasonal debut, the 5-year-old gelding was having his tenth career start and was another winner for owner Khalid Khalifa Al Nabooda and Ernst Oertel who trains the majority of his string.
"We could not have made a better start to the meeting," Al Nabooda said. "We wanted Tadhg to be positive on him from a good low draw and he has given him a great ride."
O'Shea added: "He worked very well the other morning so were pretty confident and I was happy to jump him out in front. He was perhaps getting a bit lonely late on but, if we had been challenged, I think he had a bit left."
The lead changed at least four times throughout the home straight in a second 1600m maiden in which O'Shea again attempted to make all, this time aboard AF Fakhama but passed about 500m out by Rasi Al Khalediah II under William Lee.
They were immediately challenged by Taqa who took over at the head of affairs passing the 300m pole only to be passed by AF Al Wojood shortly after. It was the latter, under Elione Chaves, who would gain the spoils but only after a brave effort from Taqa who may well have led again, briefly, close home.
It was a first victory of the season for Chaves, as well as trainer Ahmed Al Shamsi who was saddling a winner for his son, Buti Ahmed Rashed Abdulla Al Shamsi, and the jockey said: "I have had three UAE winners now, all here at Al Ain, after two last season so it is a favourite track of mine. Hopefully I can get a few more rides. This was a dirt debut for the horse, on just his third start, and he really seemed to enjoy the surface."