Aerovelocity set to bid farewell to Sha Tin on Sunday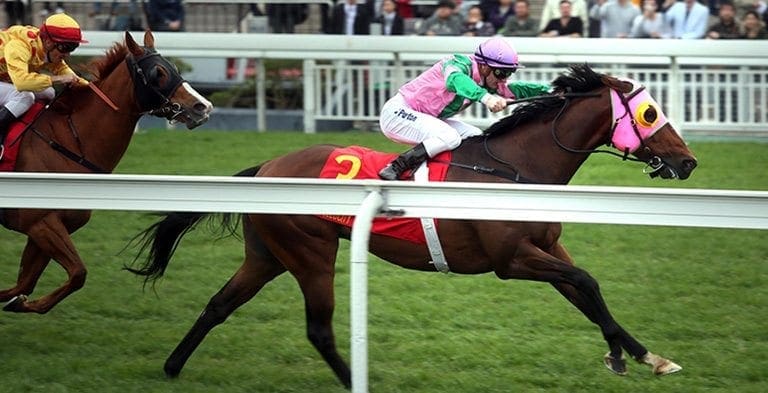 SUPERSTAR horse Aerovelocity will depart for Australia to enjoy retirement at Musokoka Farm after a farewell at Sha Tin racecourse this Sunday.
The 2015 Hong Kong Champion Sprinter and four-time group one winner retires as the only locally-trained horse to have won group one races in three different jurisdictions.
Happy retirement Aerovelocity! Bought from the 2010 Premier Sale @WindsorParkStud draft for $120k, he claimed 4 G1s & earned $7.8M #champion pic.twitter.com/1sMJqfXxC2

— NewZealandBloodstock (@KarakaChat) June 15, 2017
Aerovelocity retires having won 11 times from 24 attempts, earning HK$45,252,368 for connections in the process.
The class of the horse was self-evident, but Zac Purton – who rode Aerovelocity in its last 20 races – said the fight the horse displayed is what set it apart from the rest.
"He was just a warrior, really, a real bulldog," Purton said.
"He's probably the toughest horse that I've ever ridden, he goes out there and he leaves everything on the track."
In what could be the most glowing appraisal of the horse's talents, the seven-time group one winning jockey in Hong Kong said Aerovelocity would be "at the top that list" of horses he has piloted.

"It does feel like he's been my mate for a while now and it will be sad to see him go," the Lismore product said.
"I'd say he's the best sprinter I've ridden, he and Little Bridge have both been great to me as I had such a long association with both of them, but Aerovelocity's obviously got a better record, he's a two-time Hong Kong Sprint winner and the only horse in Hong Kong to have won three group ones in three different countries in the same season.
"He's not a champion like Silent Witness or Sacred Kingdom but for me, of the sprinters I've ridden in Hong Kong, he's at the top of that list."
If Purton's plaudits were not enough, the Aerovelocity's trainer Paul O'Sullivan gave the sprinter one of the all-time great evaluations.
O'Sullivan echoed Purton's sentiments on the horse's grit and determination, stating that that the eight-year-old is one of "the toughest and more tenacious" competitors he has seen in his time in the industry.
"I've been fortunate enough to be associated with a lot of great horses; Horlicks and Mr Tiz were world-class and, to be fair, this bloke was pretty close.
"He would certainly be the toughest and most tenacious horse I've ever put a saddle on."
The fight and resolve of the horse was no more evident than when Aerovelocity claimed its second Hong Kong Sprint as an eight-year-old after being swamped from all angles.
It is not often a horse can win a race of that magnitude as an eight-year-old, but O'Sullivan said it was a testament to the belief and patience of the owners of Aerovelocity.
"The reason for his longevity is simply that he is owned by the right guy," the trainer said.
"He's not the soundest horse in the world, and I said to Daniel about three years ago that he wouldn't last if we wanted to run in everything, all the group threes and group twos as well as the group 1oness. He said, 'just run him in the big ones, he's up to it', and that's why he only has five or six runs every year.
"If he was owned by someone who wanted to run him in everything, he'd be well retired.
"And things like, when he was up for a US$1m bonus if he wins the Hong Kong Sprint in 2015 but he had that heart irregularity, how many owners would say no to that? Ninety-nine per cent would say, just run, just run.
But that's why the bloke deserves everything he got. The reason he won the international this time around is solely due to the patience of the owner, no more, no less."
The farewell ceremony for Aerovelocity will take place in the Parade Ring after race five on Sunday, 25 June.