Absolut Artie back to best after impressive Rockhampton display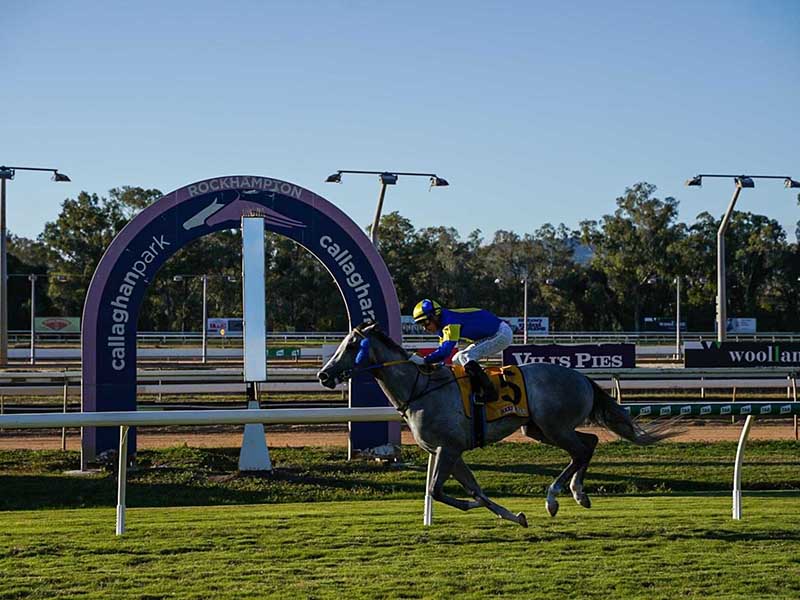 Rockhampton Cup winner Absolut Artie is back to his brilliant best, according to jockey Ash Butler.
The flashy grey bounced back on Wednesday with an all-the-way win at Rockhampton over 1300m in an Open Handicap where he was a $3.80 second elect.
Butler said the five-year-old gelding had worked the house down leading up to Wednesday's 1300m event, giving trainer Ricky Vale and team plenty of confidence, despite the gap between runs and the top weight of 62.5kg.
"We were pretty confident leading into today, it was just a matter of the weight and fitness; whether or not that was going to take its toll, but obviously he was too good for them," Butler said.
"He gave me the feel like he did last campaign when I was winning races on him, so I definitely think he's back to his best."
Butler believes he's the perfect horse to ride and is ideally suited to racing in Central Queensland because of his adaptable racing pattern.
"He jumps, he rolls along, he's got a high cruising speed and he just gets them chasing from a long way out," he said.
"An easy way to put it would be, he pretty much breaks their hearts a long way from home.
"That's how he wins his races."
It was the 10th career win Absolut Artie and the handicapper is likely to slug the son of Artie Schiller with further weight, with concerns he may carry 64kg at his next start in Central Queensland.
"He can carry weight and he's carried weight before, but 64kg is getting up there. It's pretty ridiculous," Butler said.
Absolut Artie placed third in a No Metro Wins race over 1400m at the end of last campaign, where he only had to carry 60.5kg, so a trip to the south-east corner may be on the cards again.
Butler believes he could perform well at metropolitan level, but doesn't know if the quicker tempos could bring him unstuck.
"I think he can [make it in SEQ], the only concern I have is they go a bit quicker down there (Brisbane), than what they do here (Rockhampton)," he said.
"I definitely think he will win a No Metro Wins race in Brisbane. We just have to find the right race, where there's probably not as much tempo, so he can get there [and] high roll like he does.
Butler has struggled with weight for the best part of his riding career, but he doesn't let that stop him from riding winners.
The 28-year-old has ridden over 450 winners in his career, and strikes at 14 per cent this season.
More horse racing news