Strong arsenal for new training partnership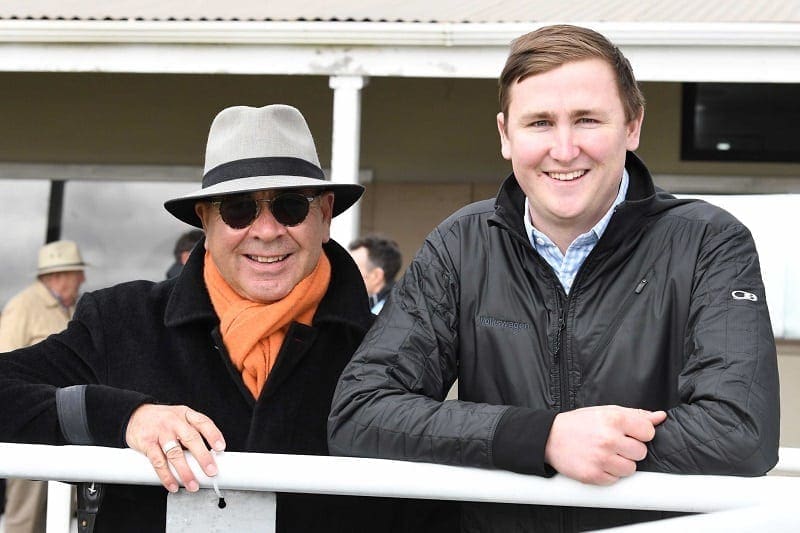 Young trainer Robert Wellwood, who joined Roger James in partnership at the start of the season, scored his first training victory at Taupo last week and he hopes his first black-type win is not too far away either.
One of the horses that could provide Wellwood with a breakthrough stakes victory is Group 3 Trentham Stakes (2100m) winner Von Tunzelman. The six-year-old gelding has won twice at stakes level and Wellwood believes he can add to that tally this season.
"He has come back in good fashion and is more mature now," he said.
"We hopefully can pick up another nice Group race with him throughout the season over the 2000m range."
A tilt at the Group 1 Livamol Classic (2040m) on October 6 is a potential target for Von Tunzelman, but Wellwood said they will wait to see how he performs first-up at Te Aroha before mapping out a plan. "He had a trial at Taupo on August 22 and there is a 1400m open handicap on September 9, which at this stage we will enter him in, get a handle on where he is at, and make plans from there.
"He does hold a nomination for the Livamol Classic, but he will really have to put his hand up to warrant going there."
Another horse Wellwood is excited about is last season's rising three-year-old star Sherrif. The High Chaparral gelding won two of his five starts, including the Group 3 Manawatu Classic (2000m), with a trip away to compete in the Group 1 South Australian Derby (2500m) holding him in good stead for a return trip across the Tasman.
"He showed a lot of ability in the five starts he had as a three-year-old," Wellwood said.
"He won the Manawatu Classic in great fashion, and then went over to the South Australian Derby. We were really happy in the way he handled himself and the way he travelled, he just didn't have the luck he needed in the run.
"He has come back in superb order this preparation. He had a jump out on Friday and will probably trial at Cambridge on September 6.
"Being a 73 rated four-year-old, he will be making his way through the handicaps in his own class, and then we'll look at some more exciting races, particularly in the autumn, where we will definitely be looking forward to showcasing the real ability he has."
Fellow four-year-old Hanger showed plenty of ability in his Classic season, winning twice over 1400m before finishing runner-up to Power O'Hata in the Group 3 Cambridge Breeders' Stakes (1200m).
"The run in the Breeders' Stakes was massive," Wellwood said.
"Coming back from 1400m on wet tracks, he was a touch unlucky not to win there, but we were really pleased with that run. "He's another one which didn't come to hand until later in his three-year-old season. It took a long time to get his racing manners together.
"He has come back in great order and has matured mentally, and that was the big thing with him. "He is going to resume at Hastings in a Rating 72 race over 1300m this weekend." Meanwhile, Wellwood will be hoping for better luck with four-year-old mare Rondinella who was plagued by a number of issues last season.
The winner of one race from four starts, Rondinella was on the verge of a black-type placing when fourth in the Group 2 Sir Tristram Fillies Classic (2000m).
"She struck some bad luck earlier in the year when suffering from a heart fibrillation when finishing down the track in the Desert Gold Stakes in January. She later considerably damaged her foot by stepping on one of her heels overnight in the stable.
"She has been on the sidelines since then. (Part-owner) Mark Chitty has been looking after her and is really happy with the way the foot is recovering. She is probably going to join the stable again in about two or three weeks and we will go from there.
"She is a really kind, athletic filly, with a great action, so she's certainly a future staying filly to watch.
"If she comes back as good as she was, and as good as we believe she is, she is a very tidy horse for the future."