​Old timer Aerovelocity wins its second Hong Kong Sprint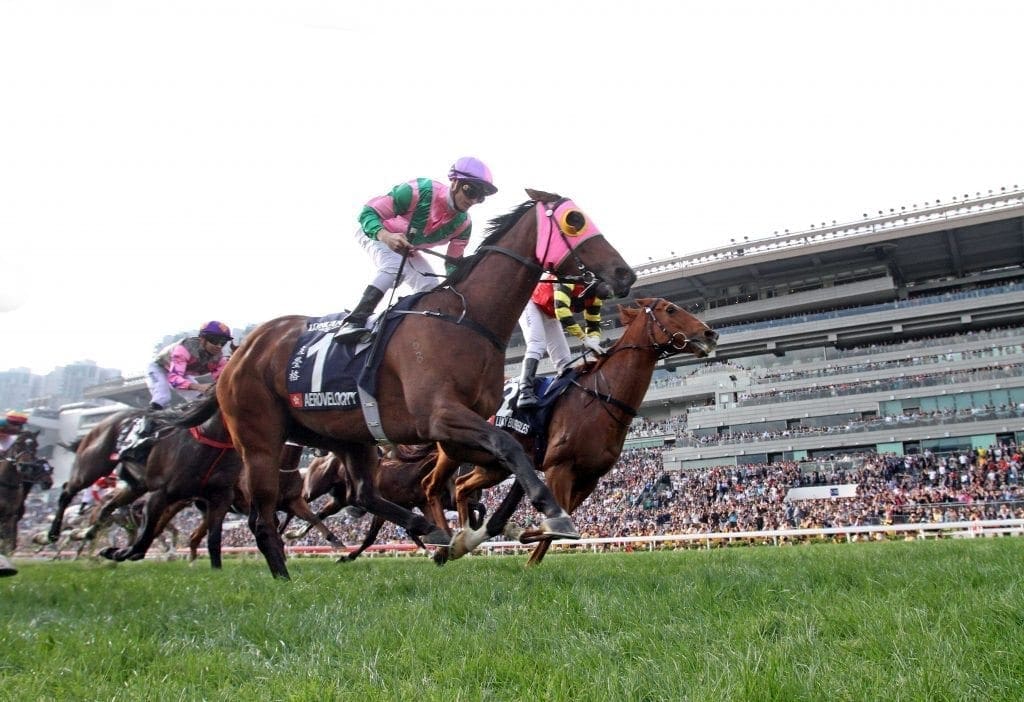 EIGHT-year-old dynamo Aerovelocity has become just the fifth horse in Hong Kong Sprint history to win the race more than once after it held out a fast finishing short-priced favourite Lucky Bubbles at Sha Tin on Sunday.
Aerovelocity got a magnificent track into the race just off the back of the speed and was presented at the ideal time to kick away from the field to win its second Sprint in three years at $9 with Sportsbet.com.au.
Lucky Bubbles ($1.20 to place at Crownbet.com.au) flew home to pressure the eight-year-old on the line but never looked like it had enough speed to bridge the gap in a race that suited horses towards the front of the field.
"It was a pretty rough race and I got shuffled back a little bit more than I would have liked," jockey Brett Prebble said.
"There are few jocks playing jockeys out there. If I got out early he wins, full stop. He is the best horse in the race. There is no better horse than Lucky Bubbles at the moment."
Peniaphobia snuck up the rails to claim third after a brilliant ride from Brazilian sensation Sylvester de Souza to return $3.30 at Sportsbet.com.au.
Hong Kong Vase-winning jockey Joao Moreira pushed Amazing Kids into the clear late to claim fourth position to hand Hong Kong the first four in the Sprint.
It was Aerovelocity's second Hong Kong Sprint victory after the New Zealand-bred horse saluted in the 2014 edition of the race.
Winning jockey Zac Purton said the win came as surprise to him given the horse is in the twilight of its career.
"It's a good feeling because we were of the opinion we were starting to lose him," Purton said of Aerovelocity.
"We know he's a warrior and he gives everything he's got – although he didn't perform at his best today his heart is just so big that he's able to give us that effort."
Aerovelocity was almost considered an afterthought by many in the market given the flood of money that came for Lucky Bubbles, but Purton said trainer Paul O'Sullivan could not have had the horse in better condition for the second Group one race at Sha Tin on Sunday.
"[O'Sullivan] fine-tuned him and dropped the extra little pounds he was carrying and got him as best he could for today, so he's done a great job," he said.
Purton said he got the ideal race to suit him, but it took all the gas the horse had left in the tank to hold out the fast finishing Lucky Bubbles.
"We had a lovely run in the race, and he was just able to amble up… it was hard fought in the end, but like I said, he's all heart."